When most of us were preparing for a relatively quiet Christmas in lockdown in 2020, Gordon Sutcliffe, a fellow craft and steward of Holmes Lodge No 2708 at Hindley Masonic Hall, was preparing to help the St John Ambulance.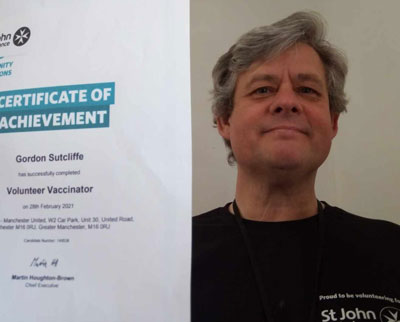 They had contacted Gordon to ask if he would take part in their vaccination programme as a vaccinator and as Gordon had previously undertaken a first aid course as a first aider at work, he was pleased to volunteer. Gordon is an electrical technician, working on pharmaceutical isolators for customers such as Glaxo Smith Kline, Pfizer and Porton Down. As a parent he was concerned for his family, friends and his Masonic colleagues, so was eager to complete his training and get stuck into the job in hand.
On enrolling, Gordon was requested to report for a weekend 'e-learning' course with the St John Ambulance before attending another weekend course with the NHS. After successfully completing both courses, Gordon attended a day practical course at the Manchester United stadium where he was taught how to operate a defibrillator, how to talk to a patient during the procedure, place people in the recovery position, administer CPR and use an epipen in the case of a patient contracting anaphylactic shock.
Gordon was also taught how to communicate with patients to gain their consent in various scenarios, such as people not speaking English, or being hard of hearing or having special needs. At the completion of a long day, Gordon had learned the process of administering the vaccine, most importantly, making sure it was in the correct arm. Gordon said: "I am very proud of my association with St John Ambulance, the NHS and my involvement with the vaccination programme which now allows me to vaccinate patients around the Greater Manchester area".
His mum is in a vulnerable category and his son is a mental health nurse at Trafford A&E, so COVID is not some distant threat. He is humbled to be part of a huge national effort to eradicate the virus, and as his training qualifies him until 2023 it's something that he will able to do not just now, but for two years in the future. He closed by adding, "I feel that it's getting our country on the front foot after a rocky start".
Gordon was asked what he was looking forward to most after the lockdown, he replied: "I am looking forward to a good haircut". Seriously though, he is looking forward to getting back on the fells and hopefully when the suspension is lifted, his third degree. "I intend to be an active Mason in whatever roles I am requested and I look forward to participating with enthusiasm" he said. He also has Royal Arch in mind.
Ian K Dawson.
Wigan Group Publicity Officer.