Members and guests of Anfield Lodge No 2215 met in the Geoffrey Hirst Masonic Suite at Woolton Golf Club for a very special occasion. It was to celebrate Gordon Smith's 50 yearlong devoted service to Masonry.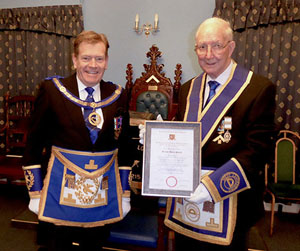 Group secretary Phil Gambrill acted as inner guard to assist the lodge. The WM Alan Ledger opened the lodge in the three degrees with the minutes of the last regular meeting being confirmed and signed in the second degree.
Provincial Deputy Grand Director of Ceremonies Mark Barton announced that Kevin Poynton was outside and demanded admission. Kevin, accompanied by grand and acting Provincial grand officers entered the room and was warmly welcomed by the WM who offered him the gavel of the lodge, which on this occasion he accepted and retained. Salutations were offered to Kevin who then closed the lodge to the first degree requesting that any fellow crafts or entered apprentices be readmitted.
Kevin addressed the assembled brethren informing them of the reason for the evening's celebrations. A transcript of Kevin's address can be found by clicking here.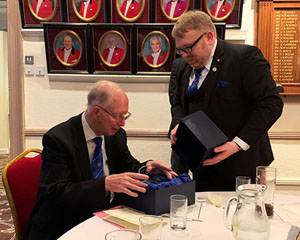 After Mike Cunliffe had read the commemorative certificate it was handed to Kevin to present to Gordon with rapturous applause from the brethren. On resuming his seat Gordon was asked by Kevin if he was going to tell the brethren what had happened that morning. Gordon informed the assembly that the Provincial Grand Master Tony Harrison had telephoned him to offer his very best wishes, but said Gordon, that was not the only thing, as he had received a letter from the DSS stating he had been awarded an extra 25p increase in his pension!
Kevin requested that the WM resume his seat. Alms were collected and the acting secretary read details of communications from grand lodge after which Mark Barton formed the procession to retire leaving Gordon in the room as he was the lodge chaplain. After further communications and several propositions had been dealt with the lodge was closed in due form and the brethren retired to the dining room to continue Gordon's celebrations.
At the festive board Alan Ledger, on behalf of the members of the lodge, presented Gordon with a suitably inscribed glass bowl.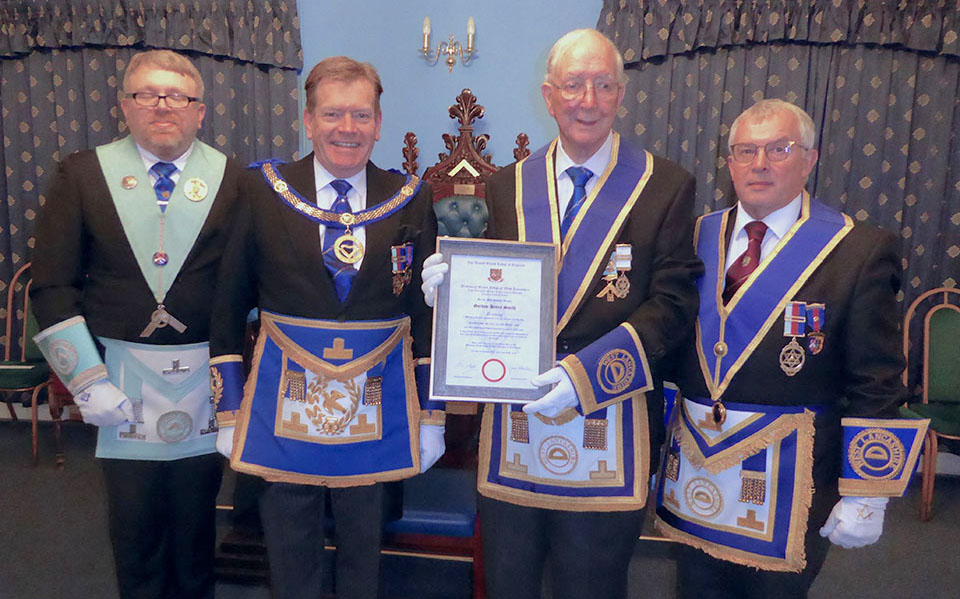 Story and pictures by Colin Roberts.