A trip to Provinical Grand Lodge, set in the magnificent Winter Gardens in Blackpool, and taking in the opulence of the Empress Ballroom with its unique dance floor consisting of 10,000 pieces of oak, mahogany, walnut and greenwood, all laid over a 1,000 four-inch springs is an occasion in itself.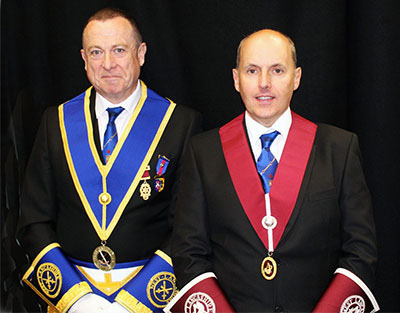 To witness the procession of Provincial Grand Masters of other Provinces and distinguished brethren of other Masonic Orders, led by our Provincial Grand Master Tony Harrison and the full Provincial team was a spectacle to be admired. The processions, appearing to come from all sides of the ballroom, criss-crossing with precision and everyone taking their allotted positions heralded the occasion of Provincial Grand Lodge. Tony warmly welcoming all of the guests and then presiding over the opening of Provincial Grand Lodge.
The excitement and anticipation was building nicely as the Provincial Grand Secretary Peter Taylor walked to the podium and announced the beginning of acting ranks, first appointments and promotions.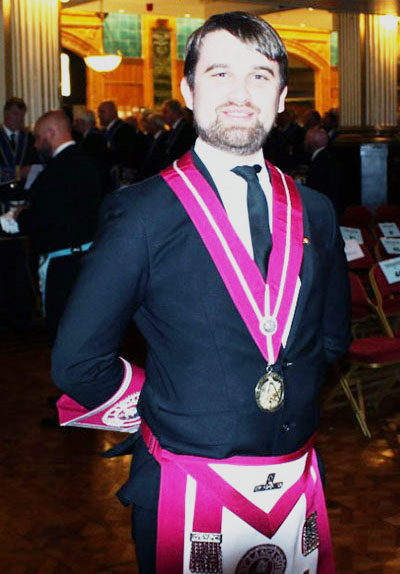 Already lined up were the Provincial Grand Stewards looking very striking in their distinctive dark red collars and aprons with silver braid, each holding a white wand.
First up for the Gladstone Group was Paul Dooley of Adelphi Lodge No 6819 who had been awarded the prestigious acting rank of Provincial Grand Sword Bearer, presenting his collar to Tony, he was then invested with his collar by Tony and after a congratulatory handshake and some quick words was picked up by the Provincial Grand Seward who returned him to his chair.
Thus began the process with Peter calling out names and lodges. For the Gladstone group, receiving acting ranks, were Krisjan Cooper of University Lodge of Liverpool No 4274 and Edward Warner of St George's Lodge of Harmony No 32 who were appointed acting Provincial Grand Stewards. Gary Nicholson of St Nicholas Lodge No 3620 was appointed acting Provincial Assistant Grand Director of Ceremonies, each warmly applauded by the various members of their lodge who had travelled to watch with pride as their brother was appointed.
Next were first appointments, with the following brethren from the Gladstone Group receiving their first Provincial appointment;
Ray Christian               St Nicholas Lodge No 3620                            PPDepGSuptWks
Terry Croker                 Harmonic Lodge No 216                                 PPAGDC
Neil McHenry               Abercromby Lodge No 3699                         PPJGD
Adrian Gill Smith         Abercromby Lodge No 3699                        PPAGDC
Warm congratulations were given to each of the appointees as Tony invested them with their collar of office.
Following Tony's annual address, it was time for the promotions. Again, a number of Gladstone Group brethren were suitably awarded.
Geoffrey R Bell             St Nicholas Lodge No 3620                                  PPGSwdB
Leslie Byrom                 Imperial Sefton Lodge No 680                             PPGSuptWks
Simon Dawes                St George's Lodge of Harmony No 32             PPGSwdB
James Horne                Grassendale Alliance Lodge No 667                 PPGSuptWks
Peter Lindfield             Liverpool Mercantile Lodge No 4319              PPDepGSuptWks
PHA McIntyre              Abercromby Lodge No 3699                                PPGSuptWks
John J McKay               Liverpool Mercantile Lodge No 4319              PPGSwdB
Simon Parrington        St George's Lodge of Harmony No 32            PPJGW
Denis Salomon             King David Lodge No 7256                                   PPJGW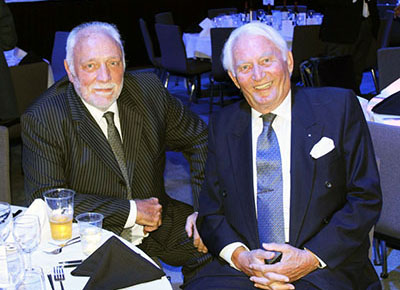 Provincial Grand Secretary Peter then announced a surprise promotion and called for Dr Andrew Zsigmond of Cecil Lodge No 3274. Andrew, who was sitting with Gladstone Group Chairman John James, was very pleasantly surprised and was conducted to the Provincial Grand Master who, in recognition of Andrew's achievements and his services to Freemasonry, appointed him to the rank of PPJGW. The assembled brethren applauded Andrew in congratulation of this unexpected honour.
The business of Provincial Grand Lodge was concluded and the lodge closed in due form. The assembled brethren and guests retired to the brand-new conference and exhibition centre for a celebratory festive board, the happy occasion being surprised somewhat by the announcement in Provincial Grand Lodge of Tony's intention to step down after eight years – the spontaneous rendition at the festive board of 'For he's a jolly good fellow' and a standing ovation demonstrating the depth of feeling and admiration for the Provincial Grand Master Tony Harrison.
Tony, thanked all of the brethren and congratulated all who had received acting, first or subsequent promotions and that they should continue to enjoy their Freemasonry, a message echoed by Gladstone Group Chairman John James, with congratulations to all those who have received honours and promotions this year.