What a truly wonderful evening was had by many companions at North Meols Chapter No 5828 on the occasion of their November 2023 convocation. Other than the Provincial Grand Stewards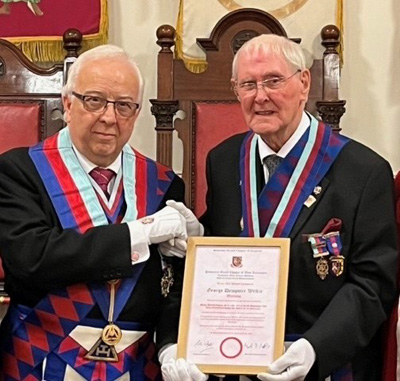 Chapter of West Lancashire No 8516 and a couple of Past First Principals Chapters.
North Meols Chapter is one of the largest chapters in the Province and certainly the largest in the Southport Group. A total of 48 members and guests attending witnessed not only an exaltation of a brother, but also celebrated 60 years as a Royal Arch Mason of one of its members.
Led by the three principals Paul Carson, John McGrady and Paul Dwan, along with Kevin Ruane as principal sojourner, worked an enhanced exaltation ceremony to an extremely high standard and assistant sojourners Richard Alty and Rob Thornton-Davidson, both of whom were acting sojourners as the invested sojourners were unavailable on the evening. In fact, the former stood in at a very short notice so his efforts were even more remarkable.
The candidate, Paul Hanley a master Mason of Crosby Lodge No 3714, which meets at Litherland Masonic Hall, wanted to join a Royal Arch chapter closer to home as he resides in Southport. He was exalted in one of the best ceremonies seen for many years, a testament not only to the work done by the principals and sojourners, but in orchestrating a faultless ceremony by the director of ceremonies Richard Snape.
The Deputy Grand Superintendent Chris Butterfield and Assistant to the Provincial Grand Principals Malcolm Alexander, supported by Provincial Deputy Grand Director of Ceremonies Ian Halsall, witnessed not only the faultless exaltation ceremony but were there to honour the 60th anniversary of George Wilkie. George, who was born in Edinburgh in 1937, was exalted into Mount Moriah Royal Arch Chapter No 104 under the Scottish constitution on 9th September 1963 becoming a life member eight days later. Following his move south with his job, he became a resident in Ainsdale, Southport. He joined Bridson Chapter No 613 in 1988 before joining North Meols Chapter in March 2022
In Bridson Chapter, he went through the principals' chairs between 1999 and 2014. Between those years he served Bridson Chapter as their scribe Ezra for five years from 2004 to 2009. Malcolm, on finishing a short although eloquent synopsis of his very interesting life history, then read the 60th certificate before asking Chris Butterfield to present it to him.
The companions were told that the Grand Superintendent Mark Matthews, who is a member of the chapter, had spoken to George before the meeting to congratulate him on his remarkable achievement and to apologise because he could not be with him as he was engaged on other Masonic business that evening. A truly fabulous end to the formal proceedings before retiring to the dining room for an enjoyable meal in harmonious companionship.
During the meal, George was presented with a 60th Royal Arch badge and the Southport Group Chairman Phil Stock, who had won a bottle of whisky in the raffle presented it to George, which he graciously accepted. Have you never known a Scotsman refuse a bottle of whisky?