Liverpool's oldest continuous working lodge, Merchants' Lodge No 241, whose warrant was issued in 1780, has yet again exemplified the Masonic tradition of charitable giving.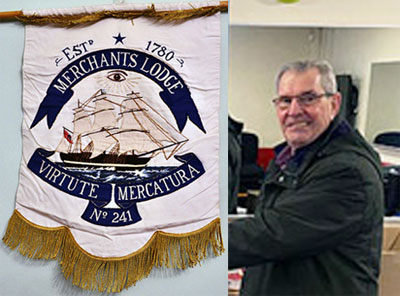 By allowing for the new procedures to be put in place due to the coronavirus pandemic, Merchants' Lodge, although not able to meet, has still managed to raise and distribute funds to those now in desperate circumstance. The current WM Glyn Pine presented a cheque of £500 in favour of the Saint Andrew's Community Network based at Larkhill Lane, Liverpool 13, to Simon, the operations manager.
Based in the Clubmoor district of Liverpool, St Andrew's Community Network has been supporting people within that locality of Liverpool and its surrounding areas for nearly 15 years. The organisation is led by people from the local community who, therefore, know first-hand the genuine local needs and opportunities, and seek to respond in the best possible way. The organisation was borne from the local St Andrew's Church and whilst it is now an independently constituted organisation, it still retains those strong links with the church. Driven by its Christian principles to support and serve the most vulnerable within the local community, hoping to bring life in all its fullness by supporting people of all faiths, and none.
The services provided by the organisation are constantly evolving depending on what they are told by the local community and additionally over the past three years has delivered support in three key areas – debt and money advice; volunteering and community wellbeing; and thirdly, acting as coordinators of the North Liverpool Foodbank partnership.
These services have primarily been volunteer led, with over 250 volunteers working across the Network. In recent years they have taken a role in supporting other churches and community groups to provide social action in their own community by partnership agreement, helping community organisations to establish a foodbank, pantry or money advice service within their setting – the true spirit of Liverpudlians offering the hand of friendship to their fellows.
Not content with this, later that same day, Merchants' Lodge donated a cheque for £250 to the Liverpool Seafarers' Centre (LSC), Crosby, Liverpool. The cheque was again presented by the WM Glyn Pine, (accompanied by lodge member Frank Daniels), to John Wilson, the CEO of the charity. This charity was brought to the attention of Merchants' Lodge by one of the brethren, Jun Ranario who also works for this worthy charity.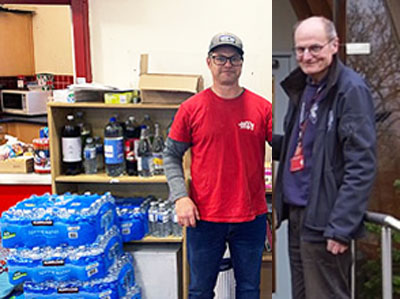 The LSC is a frontline service offering support to 50,000 seafarers passing through the Port of Liverpool each year. LSC's mission remains firmly focused on providing a lifeline to seafarers, both active and retired, offering a safe and secure place to rest and also receive practical and emotional support.
Imagine being at sea for many weeks without sight of land, at the mercy of the elements and the increasing risk of pirate attack, and having no contact with your loved ones. And when you reach port, 1,000s of miles away from home, you have no guaranteed ticket home. That's what a seafarer can go through on a merchant vessel to bring you the fuel for your car, almost everything you can see around you in your home, and the food that you eat!
Thankfully, this gesture by Merchants' Lodge has helped in some way towards assistance in alleviating, however slightly, the difficulties often faced by seafarers. It is a sobering thought that although we no longer see the international flags and funnels of the mercantile marine travelling up and down the Mersey as in bygone times, more tonnage now arrives than ever.
Today it is all containerised aboard huge vessels which arrive in Seaforth, unload onto freight trains or large lorries to be then dispersed to all parts of the United Kingdom. However these ships are still manned by seafarers who occasionally need the hand of friendship. Well done Merchants' Lodge for reminding us all that we are still a major international port and that we do care about our seafarers.