Brethren of Dalton-in-Furness Lodge No 6828 were honoured at their September 2023 meeting by the presence of Assistant Provincial Grand Master Peter Schofield. He was accompanied by Furness and South Lakeland Group Chairman Alan Pattinson, the Vice Chairman Chris Gray and Group Secretary Tony Jackson.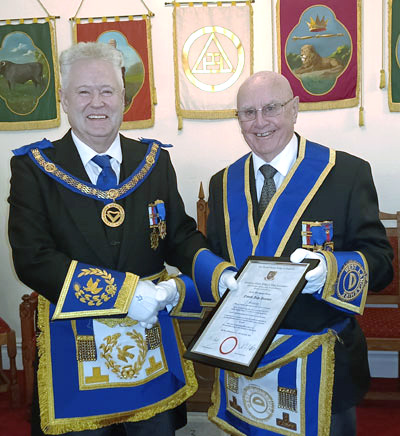 Also in attendance were Past Assistant Provincial Grand Master David Grainger and Past Provincial Grand Master of Cumberland and Westmorland Norman Thompson and more than 50 officers and brethren of other lodges. The gathering was to celebrate Frank Pearson's 50 years in Freemasonry. Tony Jackson is also an acting Provincial Senior Grand Deacon and he was accompanied by Provincial Grand Steward Phil Renney
Master of Dalton-in-Furness Lodge Dan Greaves offered the gavel of the lodge to Peter Schofield which was readily accepted. Peter said how happy he was to be invited to take part in such a special celebration as a brother's 50th anniversary in Freemasonry. Peter then asked Ryan Modlin a Provincial Deputy Grand Director of Ceremonies to seat the celebrant on the chair before him on the floor of the lodge to receive a recollection of his personal life and career.
Peter began by recalling some of the famous faces that share the same year of birth as Frank including actor Danny DeVito, boxer Joe Frazier and TV show host Jerry Springer to name but a few.
So, February 1944 saw the arrival of Francis John and Margaret's (known to her family and friends as Peggy) only child, also Francis John (Frank). Interestingly the name of Francis John has been passed down through Frank's family for many years and it is the tradition for the first-born son to be so named and Frank is the fourth generation to hold the name, something he is very proud of.
Frank attended Abbotsmead Infants School before progressing to Cambridge Street Junior School and completed his education at, Holker Street Senior School for Boys. During his school years and as a teenager Frank played rugby for the school.
After leaving school Frank secured an apprenticeship with Vickers Shipbuilding and Engineering Company as a mechanical fitter, deployed on the production of ships gearboxes. The fourth year of his apprenticeship was spent in the Mechanical Engineering Drawing Office which resulted in him qualifying as a mechanical draughtsman. Frank retired from Vickers Engineering Company in 1999.
In the late 1960s Frank met a young lady named Denise Whalley. The relationship blossomed and following a suitable courtship they were married on 18 September 1971 at St George's Church in Barrow. Frank and Denise had one daughter, Joanne who lives in Westhoughton near Bolton where she is a nurse practitioner in a local surgery. She has a daughter, Grace and Frank is extremely proud of both Joanne and Grace and all their achievements.
At the age of 16, Frank's wife Denise was diagnosed with lupus and sadly passed away in 2013. In her memory Frank has, over the years, helped the Lupus Charity by raising funds and helping wherever possible.
It was in September 1973 when Frank was initiated into Dalton-in-Furness Lodge, passed to the degree of a fellow craft on Thursday 25 October 1973, before being raised to the sublime degree of a master Mason on Thursday 28 March 1974.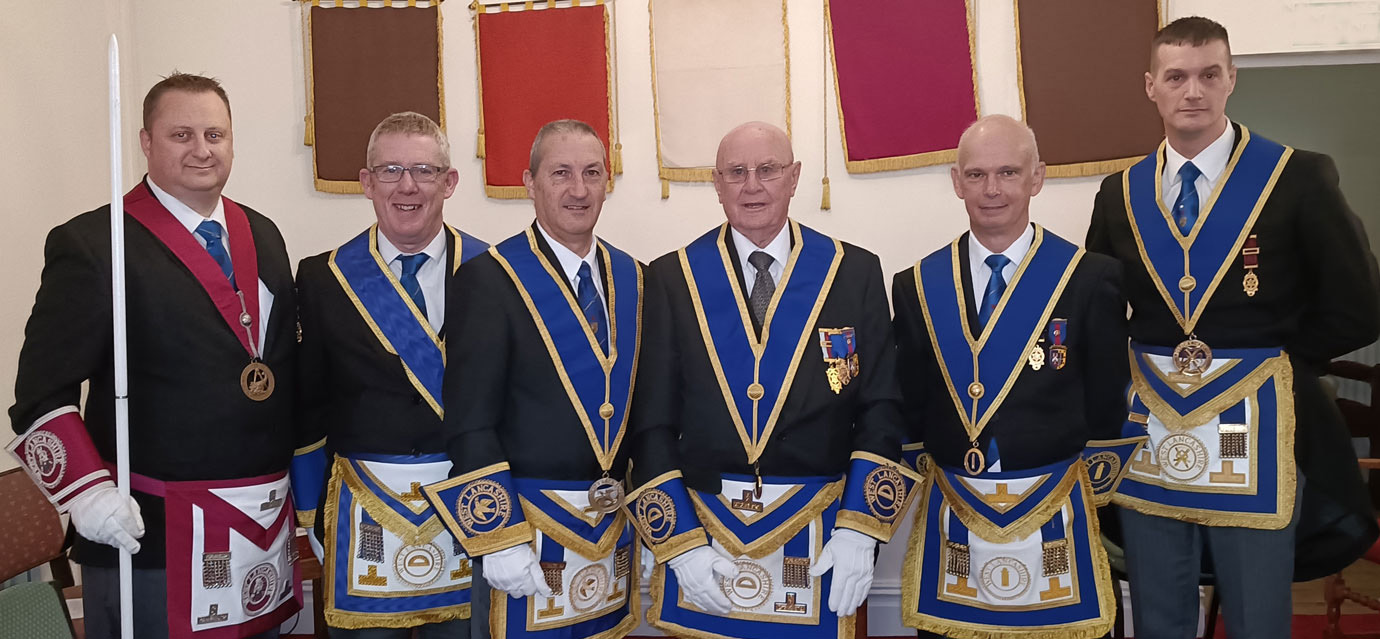 Following his initiation Frank, progressed through the various offices of Dalton-in-Furness Lodge before becoming WM for the first time in 1986. In the past, Dalton-in-Furness Lodge struggled to maintain natural progression through the offices of the lodge. As a consequence, Frank agreed to fulfil the office of master for a 2nd and 3rd year in 2007 and 2017, which greatly assisted the lodge to manage its way through those difficult periods and allow junior members the opportunity to progress naturally through the progressive offices.
In 1995 at Provincial Grand Lodge, Frank was appointed to the rank of Past Provincial Assistant Grand Director of Ceremonies, promoted to the Rank of Past Provincial Senior Grand Deacon in 2002 before receiving promotion to the rank of Past Provincial Grand Superintendent of Works in 2008. In the Royal Arch, Frank was exalted into Dalton-in-Furness Chapter No. 6828 on 5 February 1975. Frank remains a well-respected and active member in both the Craft and Royal Arch.
Peter asked group chairman Alan Pattinson to read the certificate celebrating to Frank's 50 years in Freemasonry. Peter then presented it to Frank on behalf of the Provincial Grand Master Mark Matthews.
The festive board then took place and during the celebration Ralph Walker proposed the toast to Frank's health to which Frank replied. As a token of the high regard his friend's hold him in, Frank was presented with a small gift to mark his 50 years in Freemasonry.