Following on from the initial report of 12 December when the Provincial initiative made its contributions to local foodbanks throughout the South Eastern Group, the foodbank set up at Urmston has now been operating for a week.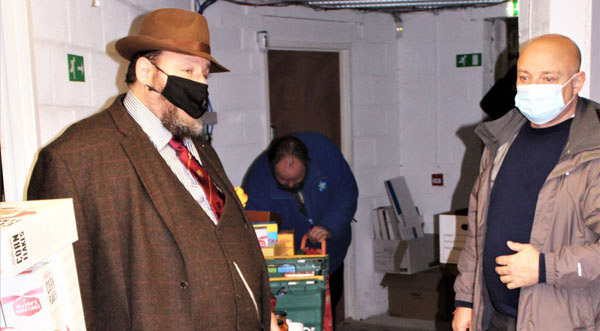 The opening times for the foodbank are 12:00 – 15:00 on Monday and Thursday following Christmas week To date, the foodbank has collected in excess of 3 tons of food and toiletries representing over 6,600 items via donations from local people and businesses!
There has been no shortage of assistance but as you can imagine, this has kept volunteers such as Ezra McGowan and Darren Gregory amongst others, extremely busy both collecting, sorting and delivering bags of produce.
In a report given to me by Foodbank Administrator, Shaun Brookhouse, it is estimated that in the first week of operation, upwards of 132 bags of food and other products have been delivered to grateful families throughout the area together with five crates and a charity van load (representing in excess of 30 bags) distributed to local charities such as the 'Toy House' amongst others!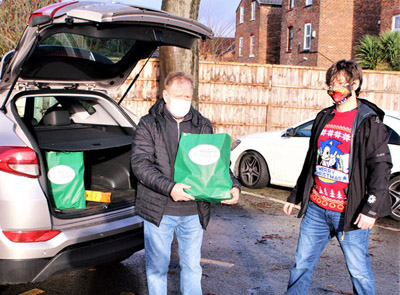 We have also been approached by three local charities, (one for children with learning disabilities, one for stay and play and one for veterans), with enquiries for produce which we will be fulfilling on a regular basis.
Among the donations, the foodbank has received so far, several cases of cereal from a local international cereal producer, several cases of biscuits, crackers and waffles from another local national producer and on Saturday 18 December we collected a big donation from an international warehouse superstore.
In addition to the food and product donations we have also received £600 in cash and £300 in food vouchers from local businesses together with £1,800 in cash donations from members of the group.
Currently the foodbank has more than enough produce to continue to run, as originally intended, through to 31 January. In a statement Shaun Brookhouse has said: "I think it should be noted that although this is a Freemasonry project, the local community has truly got behind us on this and I think it goes a long way to prove the decency of human beings."
Those sentiments can be echoed by all Masons, and also add that there is clearly a local need for this foodbank and if we continue to accumulate and distribute donations at the current rate it will demonstrate that Masons serve a useful role in the community and will help to publicise this tremendous organisation in a good light and also act as a means of attracting new members!
Just to re-cap, if you wish to volunteer your services or arrange the collection of donations you can, as a first point of contact, email Shaun Brookhouse at foodbank@masonicmail.net and he will make suitable arrangements.