What did you do during lockdown? Gary Matthews, the senior deacon of Lever Park Lodge No 8144 and his 15 year old son Ellis decided to go on a bit of a bike ride!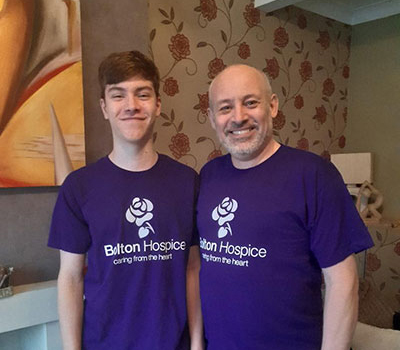 Not content with a nice local bike ride, they decided to go coast to coast along Hadrian's Cycleway – a cycleway which runs from the wild coast of Cumbria to the rugged beauty of Northumberland. It takes in market towns such as Brampton and Haltwhistle and finishes at the bright lights of Newcastle. It broadly follows the route of Hadrian's Wall, which started near Carlisle and ended at Tynemouth, near Newcastle.
There is a taste of the Northumbrian wilds, particularly around the Roman forts of Birdoswald and Vindolanda. The dynamic duo will set off from Wihitehaven and cycle to Tynemouth via Silloth for their first night and just outside Haltwhistle for their second night.
Gary tells us: "Ellis, my 15-year-old son, and I are riding coast to coast along the Hadrian's Cycleway, a distance of about 155 miles over three days between 22 and 24 July 2020. Ellis wanted to do something positive during these times so he decided to raise money for a local charity which is close to both our hearts.
Ellis chose Bolton Hospice, who looked after a dear friend of ours. Our close friend Pam Shaw, or Nanny Pam as she was known, spent her last weeks at Bolton Hospice following a battle with pancreatic cancer. They were amazing, not only making Pam's last days comfortable but also supporting the family.
So hopefully he can raise just a small amount towards a wonderful charity. Any amount, large or small, would be gratefully received. Thank you, and please visit the fundraising website by clicking here."