David Ullathorne from Excelsior Lodge No 3580 visited the Liverpool Sunflowers Charity to meet with Charity and Development Manager Bobby Magee and present him with a donation of £250 from the brethren of Excelsior Lodge.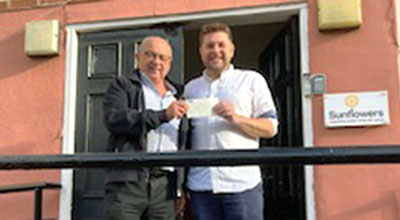 Liverpool Sunflowers is a charity that provides support and services to individuals and families affected by cancer and other life changing illnesses in the Merseyside region. They offer a range of services including advice, guidance counselling, complementary group support sessions, art and craft therapies and are based in Aigburth.
The demand for their services has exploded over recent years providing over 50 referrals a month, from self-referral, NHS patients and health professionals. Sunflowers receive no other funding apart from donations such as Excelsior and other local fundraising trusts to help support their services.
They have a team of 49 volunteers who provide 100 counselling sessions a week and their waiting list is only two weeks. They have 18 exercise sessions a week for people with long-term conditions, providing massages and reflexology to relieve conditions, and a very busy support group.
Overall, they provide about 1,000 appointments a month to people with cancer, long-term conditions and their families, without the services they provide the waiting lists for general practitioners would be even longer. Sunflowers will provide speakers at events to provide information about their services or especially if there is someone who requires their help and offer instant support to people with cancer and long-term conditions.