The members of Euxton Lodge No 7192 together with a good number of visitors ensured that a fabulous night was in store for Norman Deakin as he celebrated his golden jubilee in the Craft. This was to be the 'main event' after the lodge, undeterred by the constraints of lockdown the previous year, held a special 'zoom' celebration for Norman.
WM of the lodge Patrick Martindale opened the lodge and welcomed all visitors, but special mention was made of Philip Hamson who is Norman's son-in-law and a member of Lodge of the Holy Well No 7827 meeting in Loughborough. Philip had made the journey from Loughborough along with a fellow member Bob Stephens. Norman was also delighted to see two old friends and members of Borsdane Lodge No 6460, the lodge into which Norman was initiated.
After the initial business matters were completed, it was reported that the Assistant Provincial Grand Master Peter Lockett demanded admission to the lodge. After entering the lodge in due form, Peter was greeted by Patrick and, as is the custom, was offered the gavel, which on this occasion he took and proceeded with the next order of business.
With Norman suitably seated centre stage in front of the master's chair, Peter began what was an enjoyable and comprehensive review of the celebrant's life story. Peter's address then covered the notable events of Norman's year of birth which he shared with Clint Eastwood, Sean Connery, Steve McQueen and Gene Hackman.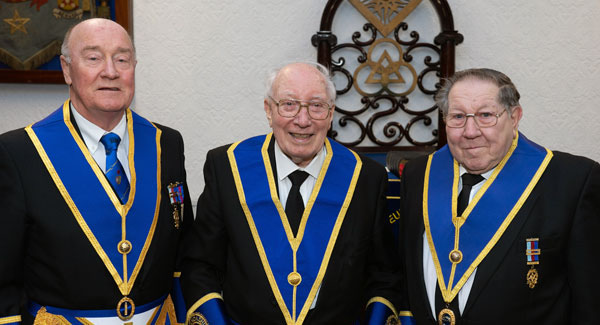 Norman attended Ashton Grammar School after which he completed his National Service in part in Austria where he learned to ski. After serving his country Norman trained to be a teacher at Leeds College of Education before returning home to Wigan to begin his teaching career at Scott Lane Primary school.
Throughout his career, Norman moved to several schools and finally retired from service in the education sector as Head of Woodlea County Primary School in Leyland.
A keen sportsman, Norman played and coached football, tennis and cricket at Ashton Grammar School and also played for Wigan Cricket Club. He has also been a lifelong supported of Wigan Athletic FC having been a season ticket holder until only very recently.
Other hidden talents include a love of creating marquetry pictures in wood veneer as well as being an accomplished pianist. Indeed, Norman served as organist for Borsdane Lodge for eight years.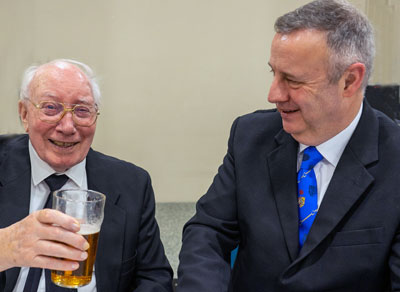 Norman's Masonic career began in the aforementioned Borsdane Lodge on 11 March 1971. He became a joining member of Euxton Lodge in 2010. He was honoured with the acting rank of Provincial Assistant Grand Superintendent of Works in 1995. Norman is also a member of the Royal Arch having been exalted into Corinthian Chapter No 2350 in 1983.
Peter told the brethren that there was no doubt that through his entire life Norman has been an example of what makes a good Freemason, as well as a good citizen, a good partner and in every way a contributor to society as a whole as well as a good ambassador for our Order.
On conclusion of his address, Peter then asked Colin Preston, Treasurer of the Chorley and Leyland Masonic Group, to read and then present a certificate from Tony Harrison the Provincial Grand Master of the Province of West Lancashire to Norman.
The main order of business being concluded, Peter handed the gavel back to the WM who swiftly dispensed the rest of the lodge business so that everyone could retire to the dining room to continue the evening in the more relaxed setting of the festive board.