It was sad day at Hindley Masonic Hall as Borsdane Lodge No 6460 had their last meeting as the members were handing back the lodge warrant and closing the lodge.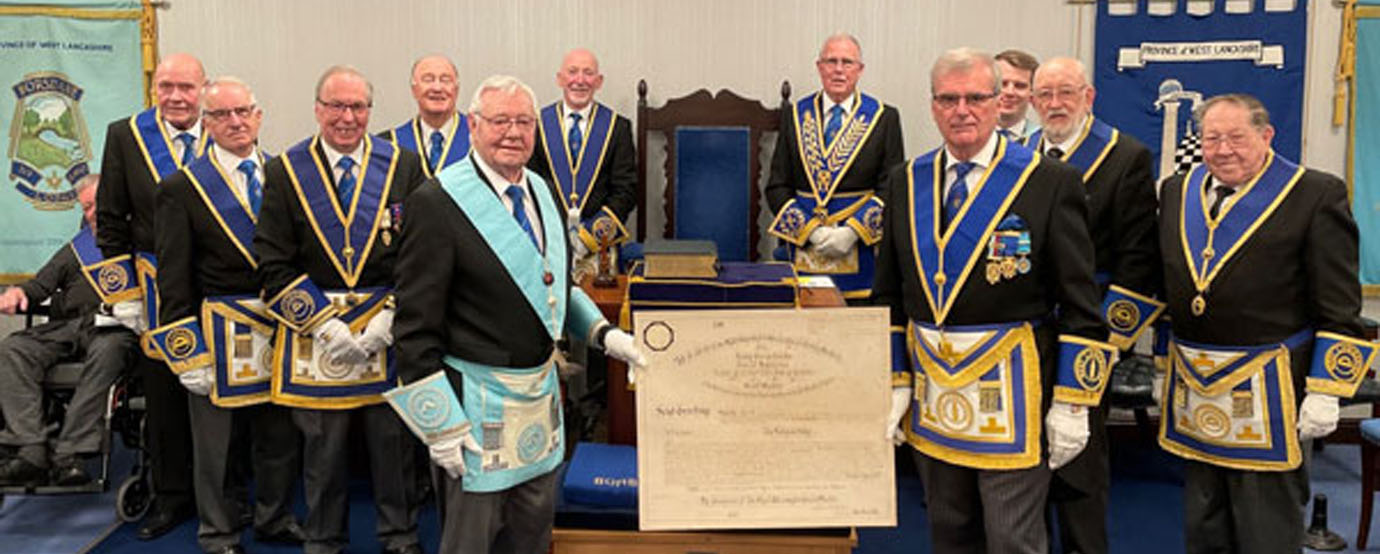 Consecrated on 29 October 1947, the lodge originally met at St John's Methodist Sunday School, Market Street, Hindley, before moving to Hindley Masonic Rooms in 1949 and finally Hindley Masonic Hall In 1966 where it remained to the present day.
The lodge was opened for the last time in due form by the WM Frank Jones. A very pleasant duty followed with the proposal and balloting for Albert Williams to become an honorary member. Albert was Borsdane Lodge master in 1995 and 2008. The ballot proved unanimous from the members present.
Following the almoners report and alms collection, the WM presented Jonathon Lever, the IPM, with a record of all his activities during his year in office which was received with pleasure by the recipient.
Borsdane Lodge brethren assembled in the north for the WM's final remarks during which he thanked all the ladies for their support over the years before surrendering the warrant to Wigan Group Chairman John Selley and retiring with the rest of the Borsdane Lodge brethren.
A 'Ladies to Dine' festive board was arranged following the meeting; the ladies having been present downstairs at the hall whilst the meeting was conducted. Following an excellent meal, the team of ladies who had organised the event were presented with flowers from the members of the lodge by the WM, with the lodge widows present also receiving a bouquet.
Thanks were given to the secretaries of Borsdane Lodge and Corinthian Lodge No 2350; Arthur Swift and Peter Newell respectively, for all their work in the period leading up to the last meeting, in addition to thanks to all the attendees.
A raffle at the festive board raised £270, £100 of which was donated to Pete Newell for a charity event he was involved with, 'The Great Tommy Sleep Out', with the rest going to the Royal British Legion and Masonic charities.
The evening was concluded on a positive note with the confirmation of the merger of Borsdane Lodge with Corinthian Lodge to be known as Corinthian Borsdane Lodge No 2350 going forward, and with the majority of the Borsdane Lodge members joining.
The final act of the WM was to toast the newly merged lodge and wish everyone well for a safe journey home.