Egerton Worsley Lodge No 1213 had the great pleasure of hosting the 100th anniversary of Elm Bank becoming a Masonic Hall. The Eccles Group Chairman Stuart Boyd welcomed Provincial Grand Master Tony Harrison, Assistant Provincial Grand Master Barry Jameson, accompanied by Provincial Deputy Grand Director of Ceremonies Gary Smith, and presented them with the traditional Eccles cakes. The meeting was well attended by brethren from across the Province.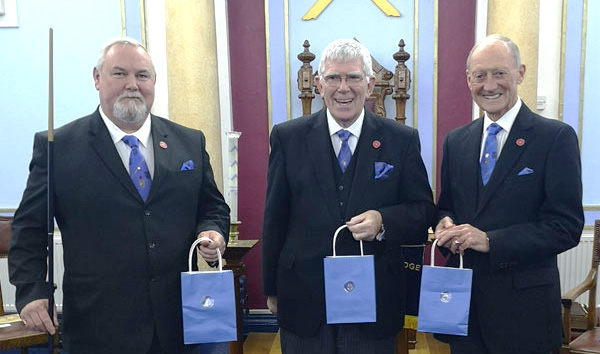 It was indeed fitting that the Egerton Worsley Lodge hosted the evening as they had done so 100 years before when the Hall had begun its new role as a Masonic Hall.  The lodge secretary Dave Marlor read extracts from the first meeting 100 years earlier; the history of the hall was given a full airing by the hall chairman Bill Bagnall. Bill explained how the building itself had been built between 1836 and 1845 by William Bindloss a local silk merchant (not a Mason). In his presentation, Bill used a wealth of historical records to show the development of not only the hall but also the Eccles area.
After being a house and home, Elm Bank was a Red Cross Volunteer Hospital between 1914 and 1918 at which time an application to become a Masonic hall was successful.  The Eccles Masonic Hall company was registered on 30 March 1920 and the hall was dedicated in September 1921 with a purchase cost of £2,500 and alterations and fittings £10,000.
Elm Bank has continued to be developed during the past 100 years.  Tony Harrison said: "A fine hall with great facilities and wonderful place to enjoy your Freemasonry."
At the social board, Tony and Barry were presented with pairs of cufflinks to mark the occasion along with mounted commemorative pennies from 1921 after which Tony unveiled the refurbished hall plaque, ready to stand proud on the building for the next 100 years.
A wonderful evening of warmth, friendship, celebration, and Eccles cakes was enjoyed by all.