Remembrance Sunday in Eccleston is now an annual event on the calendar of Eccleston Lodge No 7754 and a small number of lodge members took part in the remembrance service in the grounds of St Mary the Virgin Church.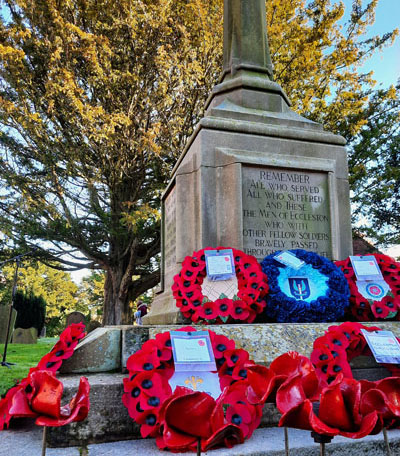 This year's procession, led by the Eccleston Brass Band, was slightly different due to COVID-9, with only the local schools and the scouting movement able to parade. The members of the lodge therefore arrived and met up at the church grounds, joining with local parishioners and awaited the arrival of the procession.
The parade arrived and everyone gathered around the war memorial ready for the service. There was a warm welcome from Reverend Andrew Brown to match the weather under a clear blue sky.
The first hymn, O God, Our Help in Ages Past, set the tone for the service and was followed by a Litany of Remembering. A lone bugler played 'The Last Post' and two minutes silence ensued. Reveille then sounded and the wreaths were laid. The lodge wreath was placed at the foot of the memorial by Andy Sumner, WM of Eccleston Lodge, who commented: "It was not just his privilege but also an honour to lay the wreath on behalf of the lodge this year. The act of laying the wreath certainly makes you consider the many that gave their lives for the privilege of freedom."
The names of the servicemen who lost their lives in the First and Second World Wars are engraved in the memorial and were recited whilst a ceramic poppy was planted in the ground at the foot of the monument by representatives from the local schools and scouting. This was prior to the service ending with the traditional singing of our national anthem.
Interesting facts:
This year (2021) marks 100 years since the nation's collective remembrance traditions were brought together: the poppy, two minutes silence, Armistice Day, the service for the Unknown Warrior and the march past at the cenotaph.
Armistice Day – 11 November, also known as Remembrance Day, marks the day World War One ended, at 11am on the 11th day of the 11th month, in 1918. It is always a poignant day in the calendar of everyone's hearts and it is a day when people from all walks of life unite in thought and prayer.
Why do we hold a two-minute silence? The first two-minute silence in Britain was held on 11 November 1919, when King George V asked the public to observe a silence at 11am. This was one year after the end of World War One. He had made the request so the thoughts of everyone may be concentrated on reverent remembrance of the glorious dead.