Graham Fish started his year as master of Eccleston Lodge No 7754 without making a decision on which charities or organisations he would like to support during his year, but he knew they would be local. Graham requested some time to ponder this over during the summer break and his lodge accepted.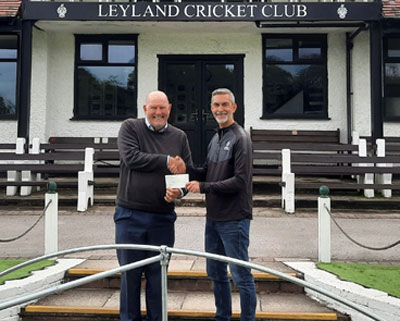 During the recess, Graham popped along to Leyland Cricket Club on Fox Lane with his wife Enid. They went along to see their grandchildren play for their respective junior cricket team. During the game, Graham had a chance meeting with Mark Sutch, the cricket development team officer at the academy. Little did either of them know at this stage that this moment would develop into something more beneficial for the cricket club!
Graham recalled that during their conversation, Mark mentioned that they had no wicket covers for one of the pitches, which created the light bulb moment! After the game, Graham contacted the lodge charity steward, John Anderson, suggesting that he'd found the organisation he wanted to make a donation too.
The idea was proposed at the next lodge committee meeting and read: "The WM would like to help Leyland Cricket Club and especially the younger players in protecting their playing area." A donation of £2,000 was proposed to cover the potential cost of the new covers. The proposal was approved and the lodge's criteria for supporting and helping the local community was met.
Having been given the lodge's approval, Graham immediately contacted Mark to give him the good news. Mark was overjoyed and admitted that he was more than surprised. Not normally being short of words, he said that he was pleased to have had the chance conversation not expecting anything to come of it. He didn't know Graham was a member of the Freemasons and so was completely oblivious about any potential outcome such as this.
Mark commented that he was normally the one completing application forms and chasing those applications for grants or community awards. To have an organisation contact him for a change, and completely out of the blue, was very refreshing. It is also a relief to Leyland Cricket Club who are always open to sponsorship and set out to purchase the new pitch covers.
On the day of the presentation, Graham was accompanied by John Anderson and Andy Sumner who saw fit to support their lodge master in this pleasant task. Graham thanked John for organising the presentation and Andy for reporting on the event. He also thanked the members of Eccleston Lodge for their generosity and for making this happen following his request and allowing him to make the presentation.