It is that time of year when Joe Williams, a member of the Croxteth United Services Lodge No 786, part of the Gladstone Group, purchases Easter eggs from the local supermarket and presents them to Linda Johnson, Manager of the RMBI Tithebarn Care Home in Crosby to be distributed to the residents based there.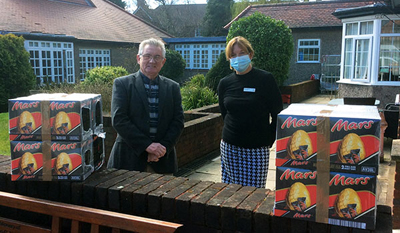 Joe Williams is a member of the Friends of Tithebarn (FOT) and in the past year during lockdown the FOT have partially funded the redecoration of the dining room and also assisted with the maintenance of the grounds including the pond area to the benefit of the residents.
During the last 12 months, Mary Piert celebrated 30 years of service to the care home and Linda presented Mary with gifts on behalf of the Friends of Tithebarn in acknowledgement of her service and dedication to the Tithebarn residents.
The Friends of Tithebarn are in the process of buying a replacement ambulance which will be required by the residents when this phase of the lockdown has been completed. The assembly of the vehicle has begun by Cartwright's, with a possible delivery date in May. The ambulance/minibus is a valuable asset for the Tithebarn residents for hospital appointments and also to take the residents on outings to various locations, outings which have not been possible during the lockdown.