The West Lancashire Masonic Clay Pigeon Shooting Society (WLMCPSS) has had a fantastic 2023, with double successes; winning the Nationals Event and the Inter-Provincial Shoot.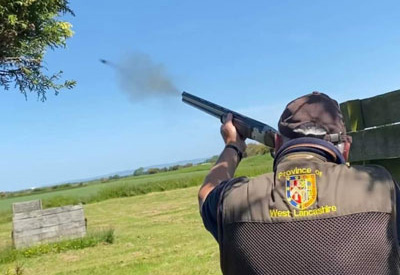 The National Shoot was held on a beautiful, sunny Saturday, hosted by West Lancashire at The Dolphin, Longton, and saw the 'home-squads' in formidable form against eight other Provinces, plus a team representing Scotland. The scores are as follows West Lancashire 267 points, London Grand Metropolitan 242 points, Monmouth 230 points, Suffolk 229 points, Cornwall 209 points, Essex 208 points, East Kent 199 points, Scotland 195 points, Yorkshire West Riding 181 points, Yorkshire North and East 179 points.
Mike Casey, organiser of the National Shoot said: "This was a tremendous achievement for our WLMCPSS and I am extremely grateful to everyone for their support, from our own Province and from the other 10 teams.  Immediately following the competition and refreshments in The Dolphin, we were delighted to support a number of great charities with cheques totalling £7,100 for financial support to assist their work, all presented by our Provincial Grand Master, Mark Matthews.
The recipients were; Applebee Wood Community Special School to purchase Amazon Kindles £1,000, Teddies for Loving Care £1,000, Miles of Smiles £1,000, Donna Heyes Trust for Meningitis £500, St Patricks School, Heysham, Reception class for waterproof raincoats and wellington boots £300
Mark Matthews said: "This year's National Shoot was of a very high standard. It was pleasing to see so many Masons from many Provinces, their families and friends taking part in and supporting the day. All those concerned in the organisation and management of the event are to be heartily congratulated. We could not have wished for better weather, good company and sporting competition. The ultimate highlight of the day was West Lancashire being the overall winners, which was the result of a consistently high standard of shooting from the team."
WLMCPSS gave further amounts during the year to the following; Merseyside Water Rescue.  To enable the purchase of children's oxygen masks and any oxygen they require £1,050, (see article on Province of West Lancashire website), Neurological Drop-in Centre, Lancaster £1,000, National Society for Phenylketonuria £1000, Air Ambulance in memory of Steve Laffan £250. Making a splendid total of £7,100 to non-Masonic community focused charities.
The second major success for the West Lancashire Clay Pigeon Shooting team took place at Coniston Hall, Skipton. This was a 50-bird shoot across 6 traps. There were 47 guns in attendance which included 8 guests.
Richard Dennison, Vice Chairman for WLMCPSS said: "It was a fabulous attendance from five Provinces, which is the highest number of Provinces we have had in attendance that I can remember. There were some great targets that catered for all levels of experience put on by a welcoming shooting ground and appreciated by all.  From my own observations, through our enjoyment of what we do, how we do it and appear to make it look easy, we are the envy of other societies. We are the one that others look up to and try to imitate. Long may this continue."

The team results were 1st West Lancashire, 2nd Durham, 3rd West Yorkshire, 4th North Yorkshire, 5th Cumberland & Westmorland. There were some great scores from members of the team as they all sought to hit every clay. The highest scores came from Jason Rhodes high gun (41) winning the Lancashire High Gun Les Jennings-Hoole Trophy, Dave Smith (40) winning the Donna Heyes Trophy.
A buffet was available following the event at The Anchor, Gargrave, at which the results were announced and presentations made by Chairman of WLMCPSS Ian Heyes, supported by Richard Dennison. A raffle raised the sum of £240 and a very generous donation of £250 from the Province of Cumberland & Westmorland team was kindly acknowledged during the presentations. The total sum raised, which included profits on the day was a magnificent £970.
For any enquiries regarding membership and all other WLMCPSS details please visit their website https://wlmcpss.co.uk/  or contact Country Pursuits Lodge of West Lancashire secretary; chris.tittley@gmail.com