It was a very special occasion for the brethren and the guests of Fermor Hesketh Lodge No 1350, who gathered at Litherland Masonic Hall to celebrate the special and important milestone in the Masonic career of Derek Atherton in achieving 50 magnificent years as a Freemason.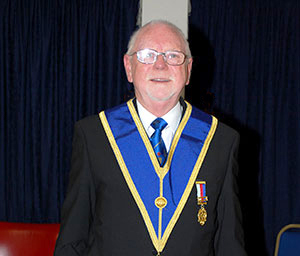 Leading the celebration was Assistant Provincial Grand Master David Ogden, who was accompanied by the Ormskirk and Bootle Group Vice Chairman Malcolm Alexander together with grand officer, Brian Cunliffe and acting Provincial grand officer's, Jason Dell, Chris Taylor and Phil Barr.
The evening's meeting commenced with the WM Derek Challinor, warmly welcoming everyone to the celebration before opening the lodge. Once the lodge's initial business had been completed, Jason Dell the Provincial Deputy Grand Director of Ceremonies was admitted into the room. Jason announced that David Ogden was without and demanded admission. Therefore, he was duly admitted into the temple preceded by grand officers and the acting Provincial grand officers. Derek warmly welcomed David to the lodge and offered him the gavel, which David graciously accepted.
David started the presentation by saying: "We are here to celebrate 50 years of service to Masonry by Derek Atherton and to congratulate him on this outstanding achievement. When I first started to have the honour and privilege to present these jubilees, I asked myself what other organization, club or anything would you celebrate being a member of for 50 years or more. I obviously thought of people celebrating their golden weddings, in fact Derek is well on his way to that celebration having been married for 46 years. I also thought then that very few would be employed by the same company for 50 years again Derek got very close to that having worked for the same company for 45 years, but not 50 years. So, brethren we have two celebrations this evening, Derek Atherton 50 years in Freemasonry and a fraternity that can keep brethren together for 50 years or more like no other organization."
Derek Atherton was then placed and seated before the pedestal, as David proceeded to deliver his presentation on Derek's life, before he progressed onto Derek's Masonic career.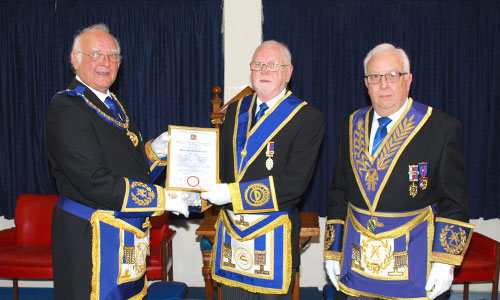 Derek joined Freemasonry in April 1969 and was initiated into Fermor Hesketh Lodge, becoming WM in October 1983. Derek became secretary of the lodge in 1985 and held the position for five years. Derek's contribution to the lodge was recognised in 1993 when he received an appointment in Provincial Grand Lodge to the high rank of Past Senior Grand Deacon and his services were further recognised in May 2015 when Derek received his promotion to Past Provincial Deputy Grand Superintendent of Works.
In January 2005 Derek joined Liverpool Charter Lodge No 7650 as SW and became WM in September 2007, in 2014 Derek took on the role of treasurer of the lodge a position he still holds. In November 2018 Derek joined Coronation Lodge No 2923.
In 1996 Derek was exalted into Ashton Trinity Chapter No 8821, becoming first principal in December 2011 and took the office of assistant director of ceremonies in December 2014 which Derek still holds to date. In October 2017 Derek received an appointment at Provincial Grand Chapter to the rank of Past Provincial Assistant Grand Director of Ceremonies.
After the detailed account of Derek's life and Masonic career so far, David asked the Ormskirk and Bootle Group Vice Chairman Malcolm Alexander to read out the jubilee certificate, before David presented the certificate to Derek.
With the presentation being over, David handed the gavel back to Derek Challinor, Derek then closed the lodge and the brethren made their way to the dining hall for an excellent festive board, where the celebrations continued.