With a very successful year behind them, and a similar year to look forward to in 2019, it has been a time of quiet yet fulfilling contentment at Woolton Lodge No 6448, which meets at the Liverpool Masonic Hall on Hope Street. Although last year saw five new candidates into the lodge and a similar number of candidates now awaiting initiation, the lodge also had the great pleasure of seeing a founder member reach his 100th birthday. This truly historic occasion took place at Nazareth House, Crosby, with friends and family of James Derek Brear, better known by his preferred name of Derek, celebrating the momentous achievement.
Opened with a champagne reception, the event took the format of the highly popular television programme 'This is your Life', complete with red book and hosted by Derek's niece Rita Cheminais. Covering all aspects of his 100 years, four separate presentations were also given celebrating the main influences of his lifetime, schooling, employment, army service and Freemasonry.
Born at Crosby in 1918 to Harry and Florence Brear, Derek's education was completed at Merchant Taylors' School in Crosby. Derek credited his success in life to the education provided to him by the school. A school chum of Derek's, Birkenhead born Bob Runcie, who had moved to Crosby with his family as a young boy, also went on to achieve great things in his chosen career, becoming Archbishop of Canterbury in 1980.
On completion of his education, Derek secured employment with the National Westminster Bank in 1935, with whom he stayed until his retirement in 1980, broken only by service in the armed forces during World War Two. His career started as a junior clerk at the branch in the Rialto Building, Princes Road, Liverpool 8, on a 12 month probation, with a remuneration of £60 per year. Successful completion of this probationary period secured his position and enhanced remuneration of an extra £10 per annum. In 1939 Derek's banking career was put on hold due to the outbreak of war and on 17 September 1939 was enlisted into 210 Anti-Aircraft Training Regiment, Royal Artillery, stationed at Oswestry. In May the following year it became part of the 103rd Heavy Anti-Aircraft Regiment and operated around Liverpool and Birkenhead throughout until May 1941.
May 1941 saw Derek sent to Milford-on-sea, on the Hampshire coast, opposite the Isle of Wight, where he was transferred to an officer training unit for just under three months. Leaving as a second lieutenant and posted to the Royal Army Pay Corps at Kidderminster. This enabled Derek the opportunity to visit home, and it was during this period that his time in Freemasonry began. With family connections to the Buckingham and Chandos Lodge No 2667, which met at the Masonic Temple on Clifton Road, Birkenhead, he was initiated on 20 August 1941. Derek was later passed to the second degree on 20 September and raised to the third degree on 18 October 1941.
On 22 December 1941 he arrived in London to await an overseas posting, and presented himself on 14 February 1942 at the Grand Secretary's Office in Great Queen Street to receive his Grand Lodge certificate and on the introduction of the office visited a lodge the very same day. This was the Duke of Cornwall Lodge No 1839, who on this occasion initiated a candidate into the lodge.
At this time Derek was just 24 years of age and only initiated six months before, but was obviously relishing the opportunity to take his full part in Freemasonry, even though many miles from home. Little did he envisage how many more opportunities would come his way.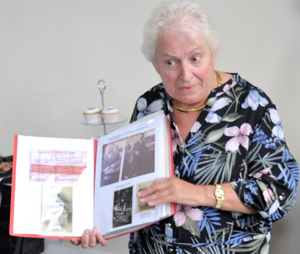 Derek's Masonic activities became curtailed for a while, as on 22 May 1942 he boarded the pride of the Cunard fleet, the Queen Mary, which had been requisitioned as a troop carrier, leaving the Clyde with over 9,000 troops aboard and a crew of 872. After seven days, 10 hours and 52 minutes at sea, Derek eventually arrived at Freetown. After taking on supplies, the vessel, with Derek, set off for Cape Town for a two day stop over, leaving on 8 June for the short trip to Simonstown. Leaving on the 10 June for Suez, the Queen Mary arrived on 22 June 1942. Here Derek disembarked for travel on to Jerusalem. Throughout the whole trip Derek was meticulously guarded to ensure his safety as he carried the key to the safe which held considerable wealth to enable the troops in the Middle East to be paid. Derek, who was now the 'Paymaster, Officers Accounts', dismisses the notion, with a smile, that the guard was there to ensure Derek did not succumb to temptation. Perish the thought.
Derek was based at Jerusalem for six months and on 11 November took the opportunity to visit Lodge of the Holy City No 1372 of the Scottish Constitution, which met in the annex of the German Church, just 100 yards from the Church of the Holy Sepulchre. He returned for another visit on 9 December 1942, when the lodge worked an initiation and passed five candidates to the second degree. The lodge still operates in Jerusalem but now under the Grand Lodge of Israel as Holy City Lodge No 4.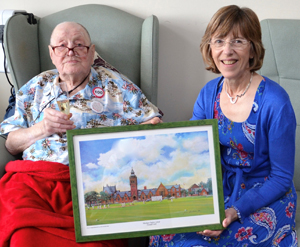 In January 1943 Derek moved to Baghdad with responsibly for Persia (now Iran) and Iraq, with an office also at Shaiba (near Basra). Soon promoted to lieutenant and paymaster, Derek became a regular visitor to Iraq Lodge No 4471 of the English Constitution. Sadly, it was while in Iraq that Derek was informed of the death of his younger brother Basil. Born in 1920 and educated at Merchant Taylors' School, Basil had attested into the Royal Artillery in 1938. After training he was posted to the Field Branch, but he transferred to the Royal Air Force on 6 October 1941. As Sergeant Air Bomber RAF Volunteer Reserve, with 156 Pathfinder Squadron, based at RAF Warboys, Huntingtonshire, he was killed, with the rest of the crew on 24 August 1943, when his Lancaster bomber was hit over Berlin and believed crashed. The bodies on recovery were buried in the Tegal Forest, but on 20 March 1950 they were moved to the Berlin 1939 – 45 War Cemetery. Of Derek's other brothers, Harry was in a reserved occupation working in a local munition's factory, while Gerald enlisted with the Liverpool Regiment, later transferred to the Scots Guards and at one time was serving in Algeria.
Some of Derek's involvement in the service of his country is still shrouded in mystery, particularly across the middle-east and above his office in Baghdad one room used was tasked for communication and intelligence gathering and who knows what else. At some time, it is known his commanding officer was a certain Dudley Clarke, a master of deception and known as one of Churchill's wizards. In December 1944 Derek was promoted to Captain and moved onto Teheran, Iran, until February, when he returned to Baghdad. In June 1945 he was in Ankara, Turkey, until his return to the United Kingdom in April 1946. He now resumed his duties with Buckingham and Chandos Lodge in Birkenhead as inner-guard, then junior deacon.
On 25 July 1947 he became a founder member of Woolton Lodge and was the first junior deacon of the lodge. Meeting at the Liverpool Masonic Hall on Hope Street. Whilst holding the positions of junior warden, senior warden and WM, Derek was employed by the National Westminster Bank and travelled up from London every Friday on the meeting dates. While in London he had the distinction of being elected as a member of the Emulation Lodge of Improvement which met at Freemasons Hall, Great Queen Street.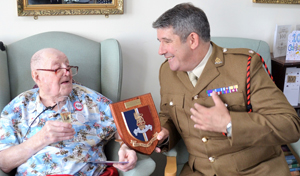 On 2 May 1949 Derek became a member of George Harradon Rose Croix No 330 at Liverpool, with the Provincial Grand Master of West Lancashire Sir Knowles Edge in the chair of the chapter. The following year Derek was installed as WM of Woolton Lodge in October, a position he would hold for the second time in 2007 when the lodge celebrated its 60th anniversary.
At the end of 1951 Derek became a joining member of the National Westminster Lodge No 3647 at Great Queen Street, continuing his membership until 1963. From his election as treasurer of Woolton Lodge in 1956, Derek held this position to 1992, a period of 36 years. Derek was invested as Past Provincial Junior Grand Deacon in 1961 and promoted to Past Provincial Senior Grand Warden at Blackpool 10 years later.
Derek was also a member of Lancastrian Royal Arch Chapter No 3651 from 1962 to 1980, spent 22 years as director of ceremonies at George Harradon R C No 330 and promoted to 31 degree in 1979.
On concluding the 'This is Your Life' red book, it was time for Derek's niece Rita to have a well earned break before the day continued with the presentations. The first of these was given by Doreen Iddon, representing the Merchant Taylors' Boys School. In speaking with Derek, he had many a tale to tell to Doreen with fond memories of the field trips he had been part of while at school. Doreen mentioned that as far as the school was aware Derek held the distinction at this time to be the eldest 'old boy' of Merchant Taylors' and therefore held a special place in their hearts. It would be absolutely wonderful if Derek could attend the 400th anniversary celebration of the school being held at Liverpool Cathedral in 2020. Doreen then presented Derek with a special framed print of the school, which is situated directly opposite his present accusation.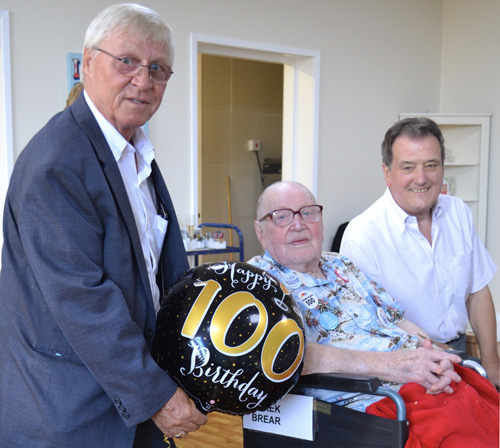 Following this, representatives of the NatWest Bank in Great Crosby stepped forward, branch manager Joanne Cullen and Linda Wilson. Joanne told of how she, like Derek, had spent her whole career with the bank, and how it still nurtured that special atmosphere that Derek experienced all those years ago. It was an absolute honour to follow in Derek's footsteps and to see him here today on his 100th birthday still alert and attentive. Joanne and Lisa then presented Derek with engraved crystal glassware for use in enjoying his daily nightcap.
Coming from the Adjutant General's Corps, Major Alan McTaggart had travelled up from Whitehall, London, representing Derek's career within the armed forces. He gave an account of his own army career, and how he too had in recent years spent time in a similar role to Derek, also serving in many of the same trouble spots. Derek was absolutely thrilled to receive from Major McTaggart an engraved plaque which had 'To Captain J D Brear on the occasion of your 100th birthday from the Royal Army Pay Corps Regimental Association'.
The final presentation and talk was by Edward O'Hare, the WM of Woolton Lodge, accompanied by treasurer David Blythe and DC Geoffrey Cuthill. Among one or two other items, Edward presented Derek with the set of coins issued in the year of his birth, 1918 and this brought home to many that at the time of Derek's birth, trench warfare was being waged on the Western Front.
Subsequent to Edwards talk and presentation, Geoff Cuthill was asked to say a few words, not only about Freemasonry in Liverpool, but on a more personal level, describing how Derek was a deciding factor on his becoming a joining member of Woolton. Geoff explained how as a regular visitor and guest of Edward, he would sit enthralled, listening to the tales of Derek, along with those of Captain Cliff Mullins, an officer in the Merchant Navy.
On completion, Rita invited all to another room for Derek to see his birthday cake, suitably decorated with edible photographs from his life. Also on offer were a number of individual cupcakes, again all appropriately decorated in a similar manner. Among the many congratulatory cards received, Derek was thrilled by that from Her Gracious Majesty Queen Elizabeth II, wishing him well on the day. Derek is now looking forward to his next card for his 150th. Sadly, as in all things, the day eventually came to a close with the promise of a return visit as soon as possible.