A large number of brethren gathered at Warrington Masonic Hall to celebrate with Dennis Rudd, Past Senior Grand Deacon and Past Assistant Provincial Grand Master achieving 60 years in Freemasonry. The meeting was hosted by Sincerity Lodge No 3677 in the presence of Deputy Provincial Grand Master Phil Gunning, Assistant Provincial Grand Masters Barry Jameson, Andy Whittle and Malcolm Bell, along with other distinguished guests.

The lodge was honoured to have a great turnout for the evening, 87 guests were in attendance of which there were 37 Provincial grand officers of West Lancashire along with the Warrington Group Chairman Andy Barton and other distinguished guests.
Barry Jameson, delivered a wonderfully fitting tribute for Dennis which reads as follows:
Good evening brethren,
One of the privileges of my position as an Assistant Provincial Grand Master is that of conducting celebrations such as this evening's. A 60th is a considerable achievement, marking long and meritorious service as a Freemason. A cause for celebration, both for the lodge and the individual. It is with genuine pleasure that we can celebrate that special anniversary this evening in a meeting of Sincerity Lodge No 3677. I would like to thank them for hosting this special event and the True Light Lodge of Friendship No 2963 for facilitating it.
Deputy Provincial Grand Director of Ceremonies, would you please place Dennis Rudd, before me, and ensure that he is comfortable?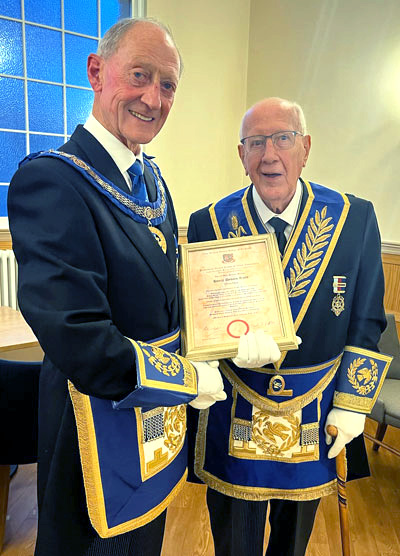 Dennis, I have had the privilege of celebrating several 50th's and 60th's since my appointment, but when your name appeared on my list for this year, it was with some trepidation that I viewed the prospect. Your record in this group and the Province is considerable, as we shall shortly discover, and you have been a mentor and tormentor to me. I am fortunate to have had the benefit of the notes used by Howard Jones to celebrate your 50th anniversary and some additional information you provided in a visit to your home last week. So given that most Freemasons are curious by nature, I will now share that detail with the brethren.
I was tempted, given that you celebrated your 50th anniversary on 11 September 2013, to pick up at that point and cover events subsequent thereto. It would be unfair to rely on the brethren having a total recall of the events that evening, so briefly, we will go back to the beginning, by way of a refresher.
You were born in August 1936 in Warrington Borough General Hospital where your father Harry Arthur Rudd was an administration officer married to Elsie, your mother. At that time, your parents lived in Steel Street and you attended Oakwood Avenue Junior School, progressing by way of the 11plus, to Boteler Grammar School. At school you proved to be a capable sportsman, playing cricket and football for the school's first XI, for three years, and in your final year, the football team were undefeated. I am grateful for Howard's notes for the following anecdote. You remembered with affection one of the masters, Dick Stobbs, despite being chastised by him a couple of times. Firstly, on a cross-country run, you and a friend took a shortcut and as a consequence, were made to run the full distance again, around the school grounds. Secondly, was being sent off by him when you appealed for an offside. If applied today, a level of discipline would see both teams back in the dressing room before the halftime pies had been warmed up.
You stayed on for an extra year at 6th form to pass "O" level Latin, as it was a requirement to obtain an exemption from the Law Society's preliminary examination, so 'gratulatio'.
Boteler Grammar School played a large part in your life and 1953 at a social with Warrington High School, you met Doreen. Your courtship continued with you putting in the miles on your bicycle. You were married on the 1 October 1960 at St Barnabas Church in Lovely Lane, initially living with your parents, moving into your first home in Padgate in 1961. You and Doreen have three children, nine grandchildren and six great-grandchildren. Your daughter Joanne was born in 1963 and has four children, three boys and a girl. Caroline came along in 1968 and has twins, a boy, and a girl, and finally, in 1970, Mark who has three boys. You moved to Stockton Heath in 1965 to accommodate Doreen's widowed and invalid mother and your growing family, where you remained until 2010 when you moved to your present bungalow in Appleton. Mercifully, no more stairs. Your family holidays were spent on the Llyn peninsula, at a farmhouse. After a few years, the farmer suggested that you put a caravan on his land to use whenever you wanted. Your two families back then became good friends and you remained in touch, even after retirement. On one occasion you had to turn your hand to being a fireman when a field of barley caught fire. Fortunately, with some assistance you managed to create a fire break and put out the fire, resourceful, practical, and able to think on your feet, you could have been a DC.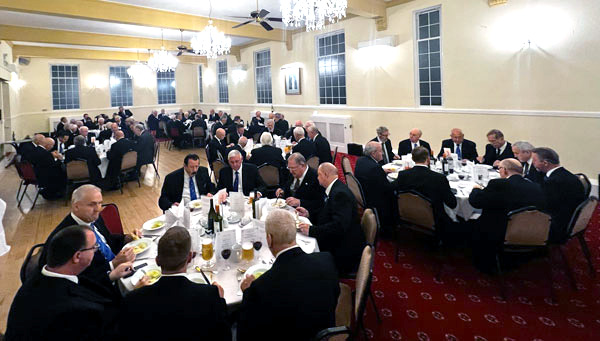 On leaving school, you were first articled to Reg Davey, the principal of Herbert Woods and Bostock, Solicitors in Bold Street Warrington. For the first two years, there was no pay, but it eventually rose to £5 per month and eventually to £12.10s 0d per week. There followed a part-time course at Manchester University, but unfortunately, with no success in the Law Society's examinations. Following short spells with two other firms, you joined Colin Watson and Co, again in Bold Street, but in 1972, you eventually settled in what you considered to be a most rewarding job, with Poole Swale in Widnes. The partners were Bill Aukland, a name no doubt familiar to some of you, and Ted Lloyd. You remained there until retiring in 2001, but you kept your hand in for the next seven years with various Warrington firms, until finally retiring in 2008.
You enjoyed sports at school, particularly football and on leaving became a founder member and Secretary of Oakwood Youth Football Club. You went on to represent the club on the league's committee, eventually becoming its chairman, and subsequently, you were made its honorary Life President. Recognising that your playing career was likely to remain as an amateur, you took your Class 1 refereeing certificate and was appointed to the referee's panel, in what then was the Lancashire Combination and the linesman's list for the Football League. You can remember running the line at West Ham when the England World Cup-winning captain, Bobby Moore was playing.
The impossibility of pleasing a football crowd was brought sharply into perspective when running the line at Goodison in an Everton game. You made a decision, not accepted by most of the Everton supporters who, in the time-honoured fashion told you where you could put your flag. You replied that the space was already full of whistles, whereupon they pelted you with toffees. When you finally stood down, like most desperate men, you took up golf and became Chair of House at Lymm Golf Club, a task more difficult I would warrant, than pleasing a partisan crowd at Goodison.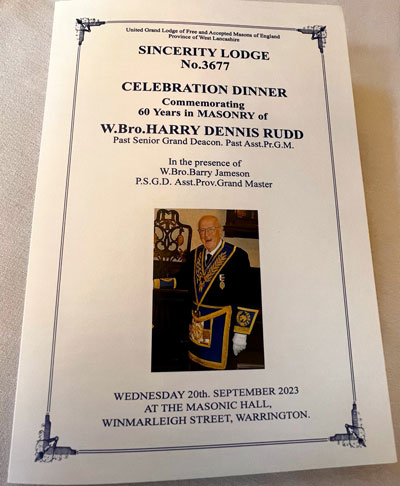 You were initiated into True Light Lodge No 7323 on the 19 September 1963 which then met at the Pied Bull in Newton-le-Willows. You were proposed by your uncle, Sid Clare and seconded by your father and served as its WM in 1970. In 1979 your undoubted talents were recognised and you were appointed as a Provincial Grand Steward. You joined Quingenti Lodge No 8516 and became its WM in 1981. In 1983 you were appointed Deputy Provincial Grand Director of Ceremonies for three years, and in 1986 you were promoted to the high rank of PPJGW. I downloaded your ranks summary from the Adelphi database, and it looks like a straight, steady progression ever, ever upwards. It does however belie the fact, that alongside that earnest application and diligence, there is a lighter side to you. Another anecdote from Howard's notes, the two wardens in 1983 were Bill Huck and John Byron. Bill Huck asked you to make their announcement a bit different at a group dinner they were attending. You duly obliged by saying that John Byron, who was wearing a large check-patterned suit, had just arrived from Haydock Park racecourse. You received your first appointment to grand rank in 1988, as PAGDC and in 1993, you became the Provincial Grand Director of Ceremonies, for this, the Masonic Province of West Lancashire. A role you were eminently qualified for and suited to.
In 1996 you were promoted to the acting rank of Junior Grand Deacon of England and had the honour to second the re-election of the Grand Master. In 1998 you passed on the Provincial DC's wand and continued as a Deputy Provincial Grand Director of Ceremonies until 2003, when you were appointed as an Assistant Provincial Grand Master, a post you served with distinction for 8 years. In 2004, you were promoted to your high current rank of PSGD.
In the Royal Arch, you were exalted into the Gilbert Greenall Chapter No 1250 in December 1979 and joined Old Masonians West Lancashire Chapter No 7702 at its consecration meeting in January 1983, becoming its first principal in 1984. After your three years in the Craft, you became Deputy Provincial Grand Director of Ceremonies in the Royal Arch, in May 1986. You were promoted to PPGSN in May 1989 and the following year you succeeded Jack Forsyth as the Provincial Director of Ceremonies in the Royal Arch.
In April 1990 you received your first appointment in Supreme Grand Chapter, as PGStdB and in April 1998, your further service to Royal Ach Freemasonry was recognised by a promotion to PAGSoj.
Dennis, you have certainly had a full and fulfilled life professionally and personally. You presented your detail, with impressive structure and in a cogent manner, which reflects your bright mind.
I add my congratulations to those of our Provincial Grand Master, and would now ask Andy Barton, Chairman of the Warrington Group to assist me by reading the certificate marking your anniversary, issued by our Provincial Grand Master, Mark Matthews.