Dave Partington was installed as WM of Pilling Lodge No 7879 in the presence of Assistant Provincial Grand Master Peter Schofield. Peter was accompanied by grand officers Past Assistant Provincial Grand Master (East Lancashire) Malcolm Worsley, Past Lancaster Group Chairman Jim Wilson and Neil McGill, Chairman of the Lancaster and District Group.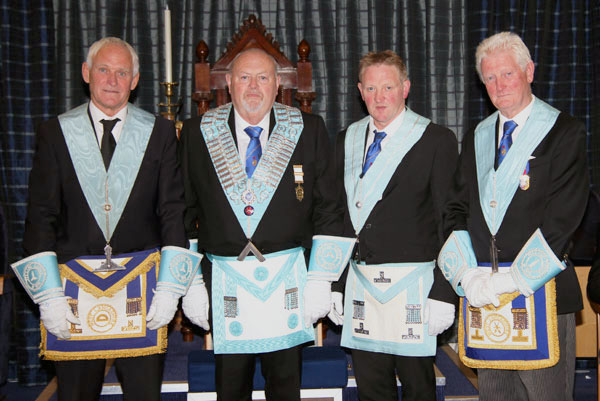 Also in attendance was group vice chairman Scott Devine, with acting Provincial grand officers; Provincial Grand Almoner Paul Broadley, Provincial Senior Grand Deacon Tony Jackson, Provincial Assistant Grand Directors of Ceremonies Mort Richardson and Larry Branyan, Provincial Assistant Grand Superintendent of Works Paul Dent and Provincial Grand Stewards Andy McClements and Phil Renney.
The lodge was opened by the WM Chris Wilkinson who conducted the installation ceremony assisted by director of ceremonies John Helme. Master elect Dave Partington was then presented by John Helme who was his proposer into Pilling Lodge. The installing officers were; senior warden Bill Richmond, junior warden Norman Rae and inner guard Gordon Rae.
The third degree working tools were presented by Andrew Carville, the second working degree tools by Simon Hamilton and the first degree tools by Mike Bishton. The WM appointed Bill Bamber as senior warden and Derek Wolstenholme as junior warden.
The address to the master was given by John Helme, the address to the brethren of Pilling lodge by Bill Richmond and the address to the stewards by Ian Henderson. There was no address given to the wardens. Chris Wilkinson was presented his past master's jewel by Dave Partington.
Peter Schofield was presented with a list of donations that the lodge had made to Masonic and non-Masonic charities to the value of £7,750. Peter thanked the brethren of the lodge for their generous donations.
The organist was David Tattersall and the master's song was performed by George Fox. A total of 91 brethren attended the festive board. The toast to the WM was given by the immediate past master Chris Wilkinson. The raffle at the festive board raised £580.
WM Dave was born in May 1962. He went to Heskin Pemberton Grammar School and later Bishop Rawstorne High School at Croston. Dave's working career began at Bill Rigby's garage in Mawdesley, working on light goods vehicles and cars, which he didn't enjoy. At 17 he went to work for Amey Roadstone as an apprentice fitter working on HGV's and plant equipment, working at the three sand pits they owned. Dave loved every minute, but unfortunately the workshop closed during the recession in the early 1980s.
Dave's father bought some HGV's from Amey Roadstone and he started his own haulage company doing similar work. He married his wife Shirley in August 1983 and they will be celebrating their 40th wedding anniversary in August 2023. Dave and Shirley are now both retired and have a home in Tenerife which they will be enjoying more in retirement. In his spare time Dave has restored two cars and two HGVs.
Dave joined Pilling Lodge in 2012 and is also a member of Scorton Chapter No 5791, Garstang Lodge No 6633 and has become a member of the Country Pursuits Lodge of West Lancashire No 6615.