Daniel Crossley was installed as WM of Lune Lodge No 4724 in the presence of Past Provincial Senior Grand Warden Michael Pinckard, the representative of Provincial Grand Master Mark Matthews. Michael was accompanied by Past Provincial Grand Master Tony Harrison and Provincial Grand Director of Ceremonies Malcolm Bell.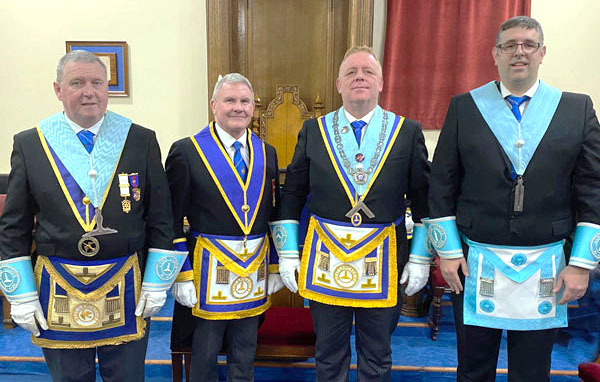 Other distinguished attending were; grand officers John Robson, Ron Gee, John Robbie Porter and Neil McGill, Chairman of the Lancaster Group. Scott Devine, Vice Chairman of the Lancaster Group was also in attendance with acting Provincial grand officers, Provincial Grand Almoner Paul Broadley, Provincial Deputy Grand Director of Ceremonies Rob Fitzsimmonds, Provincial Grand Junior Deacon Dave Shaw, Assistant to the Provincial Grand Director of Ceremonies David Boyes, and Provincial Grand Standard Bearer Tim Gill.
The lodge was opened by the immediate past master Dave Shaw, as regrettably the WM Philip Tarbun had recently resigned due to ill health. The ceremony of installation was jointly conducted by George Fox and Paul Thompson from Vale Lodge No 5256. Daniel was presented as master elect by Neil McGill. The installing officers were, senior warden Michael Tax, junior warden Benjamin Gorry and inner guard Mark Oliver.
The address to the master was given by Neil McGill, the address to the wardens was given by by John Heaton and to the address to brethren of Lune Lodge by Michael Pinckard. Dave Shaw gave the address to the deacons.
Michael Pinckard was pleased to announce that the lodge had made donations to Masonic and non-Masonic charities to the value of £1,090, for which he thanked the brethren of Lune Lodge for their generosity.
The organist for the evening was John Heaton and the Master's Song was performed by Peter Baldwin. A total of 52 brethren attended the festive board. The toast to the WM was given by Benjamin Gorry and the alms collection in lodge and the raffle at the festive board and raised £601.
Daniel Crossley was born in Blackpool in 1974. He attended King Edward School in Lytham and then Baines Sixth Form before studying physics and maths at Liverpool University. On leaving university, Daniel took a job with a recruitment agency in 1993. He was headhunted by a company wanting to set up an agency in Lancaster and in 2004 Daniel bought the business and has worked in recruitment ever since.

Daniel has four children aged 22,19,15 and 9 and lives in Scorton, although he spends a lot of time in Lancaster with his partner Malwa and her two children aged 15 and 8. He is an avid football fan and is a Manchester United season ticket holder. He still plays in a Monday league every week as a goalkeeper. Daniel also played cricket for Garstang regularly until 2020.
Daniel was initiated into Wyreside Lodge No 2605 in 2011. He joined Lune Lodge several years ago and Baines Lodge No 7844 which is his old school lodge in 2018. Daniel received his first Provincial appointment as acting Provincial Grand Steward in 2020, three weeks before lockdown so never got to wear the apron. In April 2021 Daniel was promoted to acting Provincial Senior Grand Warden.