In October 2023, Cuerden Lodge No 6018 held their annual installation with Ian Hainsworth taking the chair of King Solomon for the ninth time, which must be some sort of record.

Ian, having originally being installed as WM of Cuerden Lodge for the first time in 1998, he was reinstalled nine years later and has since governed the lodge as master for eight of the last 17 years.
Although missing their experienced director of ceremonies Frank Hunt the installation was started and Colin Parfitt did a great job installing Ian as master after Ian's son Michael presented him as master elect. Working tools were given by Stephen Lunt, Steven Grimshaw and Cyril Stringfellow, all of whom presented the tools well in open lodge.
During the investiture, there were new brethren who were taking office on the ladder, with Bill Ricketts taking the chair of junior warden, Cyril Stringfellow as inner guard and Craig Murray was invested as tyler of the lodge.
Following the investitures of the lodge officers, Mark Rothwell gave the address to the master and Chris Blackwell stood to present the address to the brethren of the lodge as the representative of the Provincial Grand Master Mark Matthews.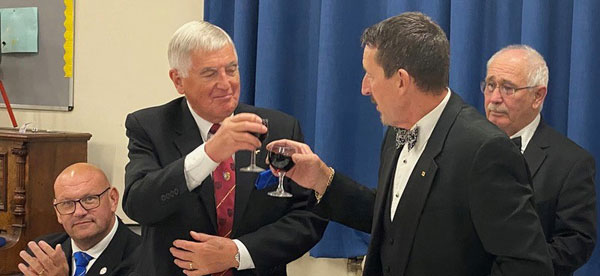 On completing the installation, a handful of cheque's totalling £1,000 was presented to Chris Blackwell for St Catherine's Hospice, Rosemary Cancer, West Lancashire Freemasons' Charity and Northwest Blood Bikes. The donations were gratefully received with thanks passed to Dave Bishop, Vice Chairman of the Chorley and Leyland Group who was also present.
As the lodge closed, Chris Blackwell shared congratulations and best wishes from Mark Matthews. Ian returned his thanks to Chris for sharing those kind words and also for stepping in at such short notice.
Everyone retired to the dining room for the festive board and an enjoyable meal was had. This was followed by toasts, a raffle and the Master's Song sung by Steven Grimshaw. During his own toast to the master Chris Blackwell made focus on the importance of a growing lodge with regular new members being required to keep a lodge stable.
Cuerden Lodge meet at Halls4All at St Ambrose Church in Leyland and if you are planning to visit, please bring your own alcohol, although there is usually enough to share.
It would be interesting to find out if nine times in the chair as master of the lodge is a record or if there are longer periods in Freemasonry? Please email freemasonry@snugmedia.co.uk if you have any details on this news.