The celebration of 50 years in Freemasonry is always a special occasion and something that the celebrant's brethren endeavour to make as memorable as possible. Such was the case at Cuerden Lodge No 6018 when over 50 members attended the meeting to celebrate Chris Blackwell's 50 years in Freemasonry.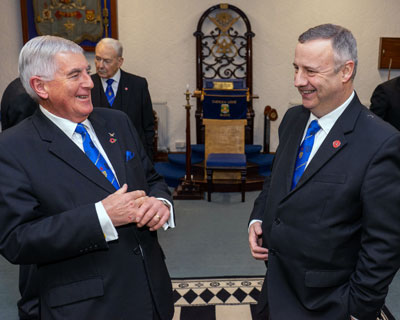 This notable milestone was actually achieved in 2020, but as with many such anniversaries, celebrations were unable to take place when they fell due as a result of the national restrictions in place at the time.
Shortly after the lodge was opened by the WM, Michael Hainsworth, he was asked to admit the brethren of Farrington Lodge No 7277 who, mindful of the special occasion taking place, had called off from their own meeting to join in the celebration.
After the initial business matters were completed, it was reported that Assistant Provincial Grand Master Peter Lockett demanded admission to the lodge.
Peter was admitted along with his attendant Provincial grand officers and no less than grand officers. As is the custom, Michael offered Peter the gavel, which on this occasion he took and proceeded with the next order of business.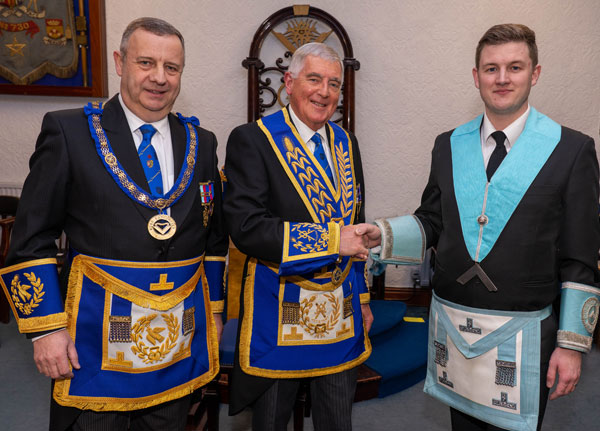 With Chris suitably seated centre stage in front of the master's chair, Peter began what was an enjoyable and comprehensive review of the celebrant's life story, made all the more special as they had both worked very closely together and became good friends for many years as Group Chairmen of the Chorley and the Leyland Masonic Groups before these groups amalgamated in 2019.
Peter's address then covered the notable events of Chris' year of birth which included the first Ferrari sports car, the first Polaroid camera and the first Pan-Am commercial flight. The assembled brethren were then told of Chris's formative years in Burnley and then Bamber Bridge, which included vivid memories of the 1952 Preston Guild and the coronation of Queen Elizabeth II
Chris demonstrated great sporting prowess from an early age. He played both football and cricket for his school teams at St Aiden's and then Walton-le-Dale Secondary School.  At the latter he became head boy and captained the cricket first XI, as well as playing for North Lancashire under 19s.
Further education saw Chris complete his education for his chosen profession in teaching, with a BA in Education Management at Hull University, followed by an MA at Lancaster University. In 2020 he was awarded B Ed (Honoris Causa) from York St John University.
Chris has taught at Eskdale Modern School, North Yorkshire, Up Holland Grammar School and Tulketh High School retiring in 2006 after 39 year of service to the profession.
Peter then asked lodge secretary Jim Lochrie to read from the lodge minutes on the night of Chris's initiation before he went on to summarise Chris's extensive Masonic career, which is all the more remarkable considering that for the last 25 years he has served as a magistrate on the Preston and Lancashire bench.
Chris Blackwell was initiated into Cuerden Lodge in 1970 and the occasion was made all the more memorable by his father, Jim Blackwell, a former master of the lodge, delivering the charge after initiation. After proceeding through the offices of the lodge, Chris was installed as master on 4 October 1982 and was awarded Provincial honours in May 1993, when he was appointed Past Provincial Junior Grand Deacon. This was followed by promotions to Past Provincial Junior Grand Warden and then Past Provincial Senior Grand Warden in 2016.
Chris is also a member of Cuerden with Withy Chapter No 7733, having joined Cuerden Chapter in 1977, becoming first principle in 1993. Several honours in the Royal Arch followed and in 2008 he became the Provincial Grand Scribe Nehemiah.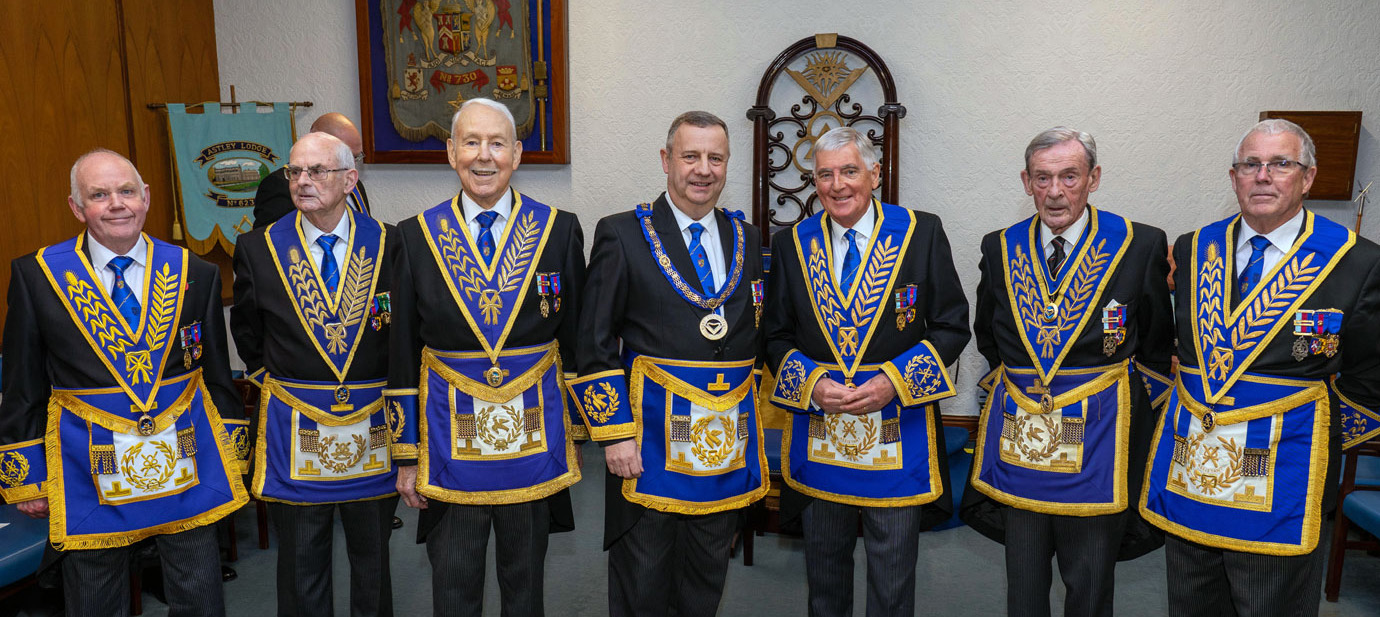 Chris is also a grand officer having been appointed Past Grand Standard Bearer in April 2013 and then Past Assistant Grand Director of Ceremonies in April 2018. He was appointed Vice Chairman of the Leyland Group in 2011 and Group Chairman in May 2016.
Peter told the brethren how Chris has consistently demonstrated a commitment to Freemasonry by his unstinting service over many years, being a member of many Masonic Orders and a key contributor to the Preston Masonic Study Circle.
In summary Peter said: "There is no doubt at all that your entire life has also been an example of what makes a good Freemason, as well as a good citizen, a good husband, a good parent, and, in every way, a contributor to society as a whole."
After Peter concluded his address he invited David Bishop, Vice Chairman of the Chorley and Leyland Group to read a certificate from Tony Harrison, Provincial Grand Master of West Lancashire, after which the certificate was presented to Chris.
The main order of business being concluded, Peter handed the gavel back to the WM who swiftly concluded the rest of the lodge business so that all could retire to the dining room to continue the evening in the more relaxed setting of the festive board.
A very enjoyable meal prepared by the staff of Chorley Masonic Hall was punctuated by the usual wine takings and toasts, the highlight of which was the toast to the celebrant given by John Lucas, an old friend and companion in Cuerden with Withy Chapter. Chris responded and thanked all the brethren for sharing this special occasion with him and making it so memorable. All agreed that the evening had definitely been worth the wait.