When you look at the core values of the scouting movement it comes as no surprise that they look familiar and bear a striking resemblance to our own guiding principles.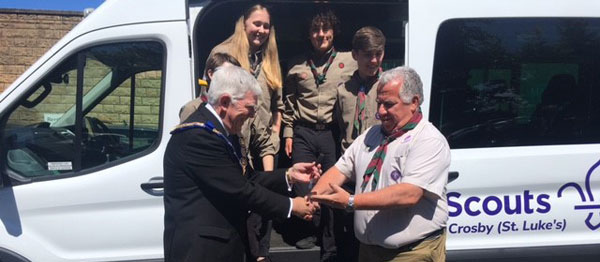 Integrity – We act with integrity; we are honest, trustworthy and loyal. Respect – We have self-respect and respect for others. Care – We support others and take care of the world in which we live. Belief – We explore our faiths, beliefs and attitudes. Cooperation – We make a positive difference; we co-operate with others and make friends.
Then of course, there is the famous motto 'Be Prepared', a call to be ready for anything, especially to help others. The 12th Crosby Scout Group, Merseyside has a long tradition of serving the community alongside its other scouting activities. Central to this has been the use of a minibus.
They have had a minibus for the past 15 years, not only for their own use, but also making it available to a variety of youth groups, charities, and schools in the area. Alas, the bus, which was over 23 years old, grew very, very tired and keeping it on the road was becoming mission impossible. The quandary, how to remain prepared with this ageing and tired transportation?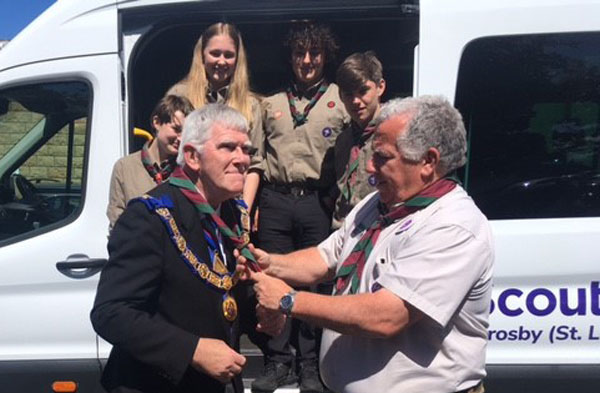 Step in West Lancashire Freemasons' Charity. With a grant from West Lancashire Freemasons the scout group were able to purchase a brand-new minibus.  It is now possible for them both to be prepared to travel and engage in scouting activities, but also to continue to offer this service to the community for many years to come. The new bus, with its many modern refinements and seating for 16 passengers, will be well received by those in need of bulk transport.
It was one of the last duties that our retiring Provincial Grand Master Tony Harrison was called on to perform, and he was delighted to attend at Southport Freemasons' Hall and present the bus to the scout group and hand over the keys to scout leader Tim Hodgson, watched eagerly by members of the 12th Crosby Explorer Scout Unit. Also present with Tony for the presentation were DepProvGM Phil Gunning, AProvGM Frank Umbers, Alan Riley representing the charity and Graham Chambers, Chairman of the Ormskirk and Bootle Group.
Coming as a big surprise to Tony, the scout leader Tim made a presentation of his own, decorating Tony with a scouts 'necker' in the colours of the 12th Crosby Scouts, as a memento of the occasion.
It was a wonderful donation from West Lancashire Freemasons' Charity showing Freemasonry in the community at its helpful best.