The County Palatine Lodge No 2505 has made history by being the first lodge to ever hold a meeting at the 110-year-old Hillside Golf Club. This venue first had to be vetted by the Province and passed with flying colours.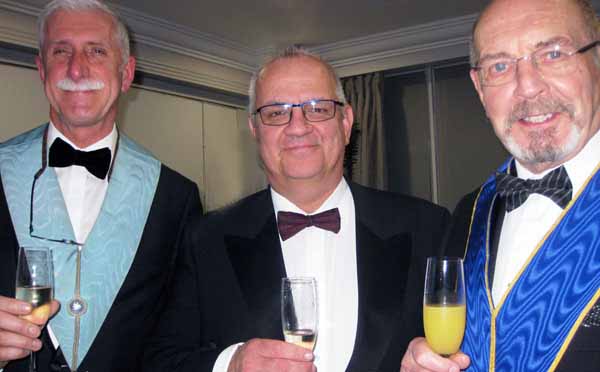 The lodge had originally met in various hotels in Southport and temporarily in the Masonic mall, where they were very well looked after but the brethren have never been in the Masonic hall and felt the point of difference was what made them unique.
County Palatine Lodge was created in 1894 as a dining lodge for senior Masons. Its initial meeting was in Post Office Avenue, Southport but quickly re-located to the Prince of Wales Hotel, Southport, where it remained until 2009 (114 years). In 2009 the lodge moved to the Scarisbrick Hotel, Southport and shortly after, in 2011, it moved again to the Royal Clifton Hotel. The Royal Clifton became unavailable in 2020 due to COVID and other problems, so the lodge was once again looking for a new home.
Since its inception the lodge had always chosen to meet in the larger Southport hotels but on this occasion no suitable hotel could be found. However, Hillside Golf Club was approached and was happy to accommodate the lodge. The lodge furniture, which had been temporarily stored at the Masonic Hall, Southport, was moved to the golf club and the lodge was able to hold its meeting there on 10 Jan 2022
The lodge was opened by the WM, Phil Stock and the secretary, Paul Kevan read out a dispensation from Provincial Grand Lodge allowing the lodge to hold this meeting at the Hillside Golf Club, rather than the Royal Clifton Hotel as specified in the lodge by-laws. This change, being a subject of a previously proposed notice of motion, was later put the lodge members who voted unanimously to adopt Hillside Golf Club as its new home and amend the lodge by-laws accordingly.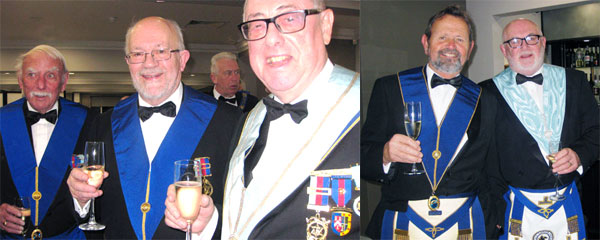 Assistant Provincial Grand Master Mark Mathews gave a brief explanation of the significance of the Grand Lodge Certificate to Chris Read, who duly signed the certificate, which was then formally presented to him by the WM. Following this the brethren were treated to a lecture by Past Provincial Senior Grand Warden John Karran entitled, 'The Life and Myth of Hiram Abif'. A most enlightening lecture which was received with much approbation by the brethren. The WM thanked John for his excellent presentation.
The lodge was called off and celebrated with champagne and canapes (a recently revived tradition of the lodge). The lodge briefly resumed and closed. The WM then led the brethren into an adjoining room for a very nice meal.
Hillside Golf Club had made everyone very welcome and it is hoped that County Palatine Lodge will be very happy there for many years to come. The evening was a huge success.