President of the Blackpool Masonic Club Colin Goodwin has zealously dedicated decades of his life to the well-being and commercial success of the club. A well-respected and hearty bird, Colin's fervor and interminable energy in rallying his troops have assured continued excellence at Blackpool's Masonic Hall.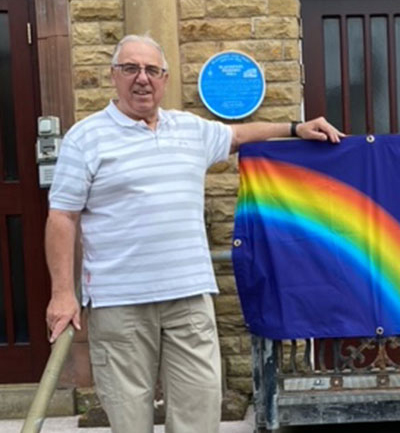 But Colin's energies have by no means been confined to the Masonic hall. With equal zeal and commitment, he has played a huge role in the success of Fleetwood Rugby Club, for which he has been nominated and awarded an Honorary Life Membership.
Despite the major disadvantage of originating from the other side of the Pennines in Castleford, Colin successfully established himself in the rugby family of Lancashire, having played centre for the Blackpool and Lancashire Police team. It was Yorkshire's loss and Lancashire's gain when Colin's family saw the light and moved from Castleford to Blackpool when Colin was 16 years old.
Following his career in the police force and after having left his robust mark on many of his opponents when playing for the police team, Colin added Fleetwood Rugby Club to his list of conquests. There he played first team rugby between 1973 and 1975. Unfortunately, his police duties only allowed him to play periodically over the coming years – something that some may say was a blessing!
For 10 years from mid-2000, Colin was involved in supporting the first team as kit man and general dogs-body and then, in 2013, he took on the position of Club Chairman – a post which he still holds at the club. The same dedication which is so evident at the Masonic hall can be seen in his staunchness to Fleetwood Rugby Club. He is a constant presence, both in the office and in his support of the teams and a master in grant negotiations. He has also raised the rugby club's profile in his dealings within the community; the Lancashire Rugby Football Union, the Prince's Trust, the LGBT and numerous other organisations.
And in all these capacities he ensures that all know that he is foremost a Freemason. Hearty congratulations are extended to Colin on receiving his Honorary Life Membership of Fleetwood Rugby Club and our appreciation of his tireless work for the Blackpool Masonic Club.