A very special trip to Windsor Castle was made by Chris Upton, along with family members, his wife Lucy, mother Janice and father Derek, a Freemason in Jersey.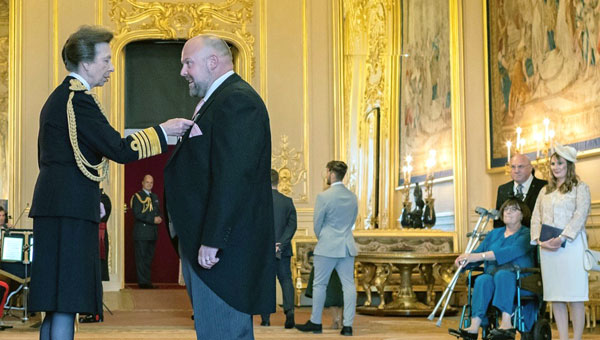 Chris Upton, a member and master elect of Carnarvon Lodge No 2387, was made an Officer of the British Empire (OBE) in the King's New Year's Honours for Services to Education and he made the trip south with his family for his investiture.
On arriving at Windsor Castle, they made their way along the Long Walk taking in the incredible views. Before gaining admittance to the castle, they were searched by police and safely allowed inside. Chris commented: "Every room was steeped in history, with various portraits, weaponry, armour and heraldry. It was certainly an impressive sight to behold."
Eventually they waited in the Waterloo Chamber where a courtier gave a briefing on receiving the award and the protocols in doing so. It was at this stage that Chris found out that it would be the Princess Royal who would present him with his OBE medal.
Smiling as he shared his experience, Chris explained he would never forget the day and he was grateful that his parents had made the trip from Jersey to be with him and his wife. "We lined up outside the main room, I could hear music from a small military orchestra inside and a Beefeater stood tall and prominently holding his staff.
I made my way into the room and waited for my name to be announced before bowing to the Princess Royal who was now stood in front of me. Advancing towards her, she presented me with my medal and Her Royal Highness asked me about my work, congratulating me on my achievements. Even though everyone's eyes were on us both, the moment was very pleasant and personal."

A shake of the hand ended the presentation and Chris with his guests made their way out of the main room for photographs. On leaving Windsor Castle they all returned to their hotel in nearby Eton for some well-deserved refreshments and to talk about their momentous day.
Chris Upton is a well-respected member of his local community as head teacher at his school and founder of the Sparkle Bean Trust which helps schools recover from the death of a pupil. Chris has also raised £1,612 for Queenscourt Hospice, a charity that supports families of children and wider school community in difficult times. In December 2023 he is also being installed as master of his lodge in West Lancashire.