Welcome to the new home of the newly amalgamated Chorley and Leyland Group from Peter Lockett, group chairman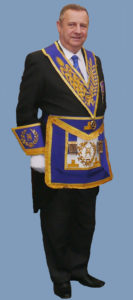 Freemasons have met in Chorley for many years. The town's first lodge was founded in 1788. Sadly, the Atholl Lodge No 238 is no longer with us, but Astley and Ellesmere Lodge No 730, which was founded over 160 years ago, is still flourishing.
Freemasonry first began to be practised in Leyland when Carnarvon Lodge No 2376 was consecrated on 12 December 1890 at the Infants' School, Leyland.
Today the newly amalgamated group comprises over 800 Freemasons, who meet in 34 lodges and 13 chapters and various other very interesting Masonic Orders.
Freemasonry is a wonderful society, and is one of the world's oldest and largest fraternal and charitable organisations and is non religious and non political. It does not discriminate on grounds of race, colour, religion, political views or social standing.
Therefore, it is open, and available to a wide range of people from all walks of life, and every part of modern society. The three great principles of Freemasonry are 'brotherly love, relief (charity) and truth. Our values are based on integrity, kindness, honesty and fairness.
Through ceremonies, which are like small plays, members develop a greater understanding of our shared principles which lead to increased self-esteem and confidence, Freemasons are taught the fundamental principles of good citizenship, which is highly relevant and important in today's society. Members come from all walks of life and meet as equals.  Whilst members take the ceremonial part of Freemasonry seriously, they also know how to enjoy themselves, most meetings end with a meal together as brothers. Lodges also hold a wide variety of social and sporting events which include their wives/partners, family and friends. One of the most important events lodges hold each year is the 'Ladies' Evening'. Lodges will often hold 'themed evenings', and on occasions there are week-ends away.
The group arranges a spring gala dinner, a group walk, together with tournaments for golf, bowling and clay pigeon shooting, to name but a few events.
There is also an active 'Fellowship' for retired Freemasons, their wives/partners, and the widows of former members, all part of our life long support network.
We are always interested in hearing from anyone who wants to learn more about Freemasonry in the Chorley and Leyland area. For men who may wish to consider joining us, please contact our membership officer by completing an enquiry form which will lead to a confidential chat with you on all aspects of Freemasonry. He will be able to answer any questions you or your partner may have about Freemasonry in general and to satisfy any reservations and concerns you may have about the ideals of Freemasonry.  
I hope you enjoy your visit and exploration of our website.
Peter Lockett
Group Chairman
Wear your
Stewards
Jewel
with Pride