Grand Lodge in 2023 was attended by many West Lancashire Freemasons, who made the journey south together to enjoy this impressive meeting, which is held each year on a massive scale in Freemasons' Hall, Great Queen Street, London, the home of United Grand Lodge of England.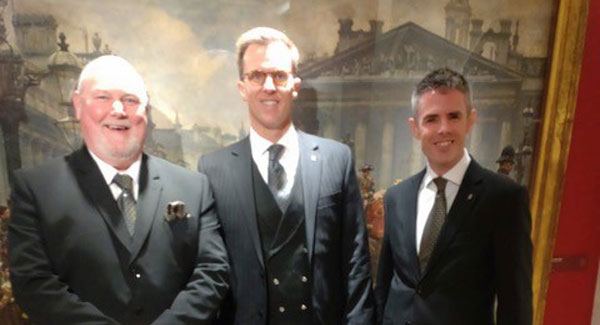 It was also great to see the Grand Master himself, HRH The Duke of Kent, in attendance to open the lodge and present appointments to those selected who had made the journey. For two Chorley and Leyland Group Freemasons however it was an even more important occasion.
The first celebrant was Gary Smith, Provincial Deputy Grand Director of Ceremonies and a member of Peace Lodge No 2269, who was awarded his first appointment as a Grand officer at this year's meeting. While in London, Gary gave some information about Freemasonry and himself. It no surprise that the many who know Gary hold him with such high regard.
Gary is a part time undertaker and funeral celebrant. He loves to walk his two black Labradors, enjoys fishing when he has the time, socialising, dining out, cooking, music, films and he also keeps threatening to take up golf. With regard to Masonry, he said: "I love the ceremonial and social sides of masonry, as well as the charitable giving, the history and meeting so many diverse people. It's a more impressive meeting for everyone involved when the ritual is learnt. It's best for younger brethren to get involved as much as you can especially in your earlier years and take in the lessons that our rituals can teach. Respect the opinions of more learned members, but never forget that you also have a voice and an opinion that should also be listened too."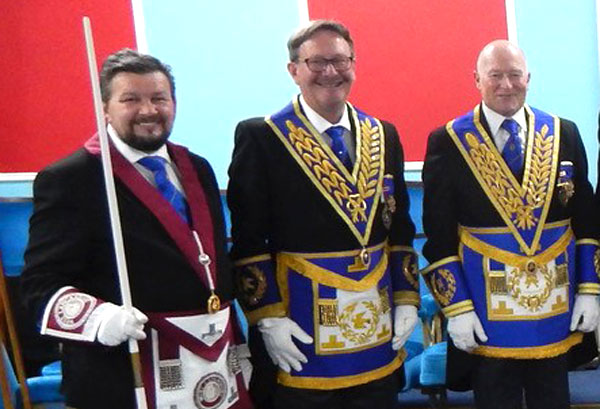 Gary has been a Freemason for just over 16 years, after joining in April 2007. He took the chair of King Solomon just 5 years later and was quickly promoted to the acting rank of Provincial Grand Steward as well as taking on the role as group charity steward. After a gap of one year, he became an Assistant to the Provincial Grand Director of Ceremonies and two years later was appointed as a Provincial Deputy Grand Director of Ceremonies, which he has held for 4 years.
With his recent grand rank appointment, Gary's Provincial role has also changed, he will become a Deputy Grand Director of Ceremonies in the Royal Arch instead of Craft. His commitment to his roles and to Freemasonry has awarded him the grand rank of Past Assistant Grand Director of Ceremonies, which is very fitting for Gary to receive.
The second celebrant was Paul Hesketh, a member of Lever Park Lodge No 8144, who was given his first appointment in 2012 as acting Assistant Grand Director of Ceremonies and received a promotion at this year's meeting. Paul is a man everyone is West Lancashire Freemasonry knows and respects.
Paul has been a Freemason for 34 years, after his father encouraged him to join, and was initiated into the Lodge of Antiquity No 178 in Wigan, later joining Lever Park Lodge in Horwich. After holding previous roles in Craft, Paul is currently the Assistant to the Provincial Grand Principals in Royal Arch and received a well-deserved grand rank promotion from Past Assistant Grand Director of Ceremonies to Past Junior Grand Deacon.
Paul is a retired police officer having served almost 30 years in Community Policing, initially at Salford, later at Wigan and Leigh. Prior to joining the police, he had a music shop in Wigan with his father selling pianos and electric organs, also exporting to Italy and America and his father presented an antique ornamental piano to Liberace at the London Palladium. Fitness was always a passion for Paul, however since suffering a couple of strokes in recent years that has been somewhat curtailed. He loves cricket and a few years ago travelled to Australia with his partner Kath to watch the ashes in Australia.

When talking about Masonry, Paul said: "I enjoy the wonderful and long-standing sincere friendships, fellowship and fraternal bonds that Freemasonry brings. I do hope that more craft members will join the Royal Arch, as it is the next natural step and an important fourth element for a Freemason to take. The most important thing for everyone is to enjoy your Freemasonry, it is a unique and wonderful organisation and I am extremely honoured and proud to be a member of it.
After the meeting, appointed and promoted grand officers with other esteemed guests made their way to London's Guildhall to celebrate and enjoy a magnificent meal and drinks together. Everyone who attended commented how amazing the location was and with a glass of wine accompanying each course (pate, steak and treacle sponge) the celebration was a great success.
The evening ended with many West Lancashire Freemasons and other Provinces taking over the President Hotel bar were further introductions and conversations were had, with many looking forward to the meeting of Supreme Grand Chapter the next day.