The charity event was open to Masons and non-Masons, with all funds raised on the night going to the charity Blessing in Disguise. The amount raised at the event for the charity was £400.

Blessing in Disguise is a children's charity based in Leigh, Lancashire. They actively raise funds through events and also the generosity of its donors, support from the community and local and national businesses. This enables them to provide a range of essential and special needs equipment, plan activities that provide a range of life enhancing experiences via its free service.
The main aim of the charity is: "Creating positive changes to improve life's misfortunes, everyone deserves a Blessing in Disguise." They do this by helping to significantly improve the quality of life, encouraging social and recreational opportunities by creating many treasured memories to share with family and loved ones for terminally ill, disabled and disadvantaged children and young people across the UK.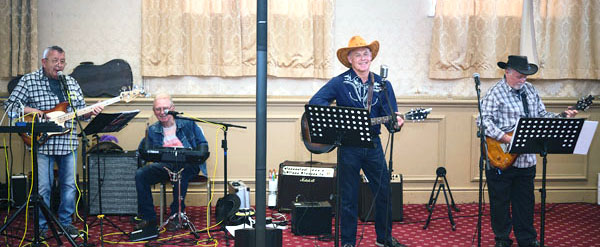 At the event within Leigh Masonic Hall lodge room, everyone enjoyed a small sing-a-long to Abide with Me, Jerusalem, Rule Britannia and God save the King. This was followed by a supper downstairs in the main hall, with entertainment provided by the WA Hillbillies, with one of its members, Mel Barnes, being a member of Atherton Lodge No 4488. The WA Hillbillies are a great country and western style band that everybody enjoyed.
The meal and services were kindly donated and provided by the Leigh Group Chef Mark Rainsford, and consisted of chicken curry with naan bread and rice, peas, homemade meat and potato pie and chips, with a really great assortment of cakes and cream.