The SWAN model is a revolutionary approach to end-of-life and bereavement care, which vastly improves the experience of patients and their loved ones at an extremely difficult time.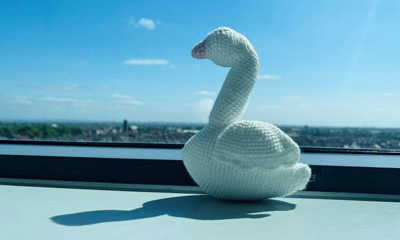 Founded by Fiona Murphy, MBE, director of nursing at Liverpool University Hospitals NHS Foundation Trust, Fiona explains: "I am so proud of the SWAN model for end of life and bereavement care. We are providing care that is patient and family focused and we continually evolve thanks to our patient, family and staff feedback.
I want to ensure that nothing is too much trouble; I want them to feel that there is compassion and understanding from everybody, from the cleaner to the consultant. I want information to be given freely and communicated to families and our patients in a tailored way".
Most importantly, our SWAN model will allow us to support our patients and their families and allow them to be involved in decisions being made regarding their care and their wishes. Your support will transform our end-of-life care to make a positive difference to our most vulnerable patients and their families."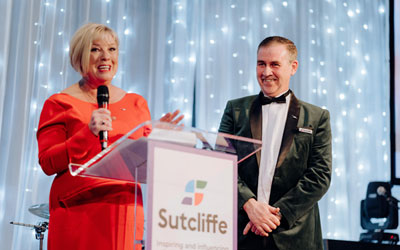 Sean Keyes, member of Adelphi Lodge No 6819 and Gladstone Group Charity Steward, was very keen to raise funds in support of Fiona, and the SWAN model. Sean explained: "No matter your age, the NHS will have helped you in one way or another, whether that be at the start or the end of life. We have always cared about the communities we work within and this is our way of saying thank you and giving back to an organisation that has helped 1,000,000s of lives throughout the last 75 years."
Sean is managing director of Sutcliffe, a civil and structural engineering firm, with its headquarters in Liverpool. Together with the directors and staff at Sutcliffe's, Sean began to formulate an idea of holding a charity ball to raise funds in support of Fiona's appeal.
The idea very quickly snowballed and the date for the charity ball was set, the venue booked at the iconic Rum Warehouse, Titanic Hotel, Liverpool for a warm spring evening. The theme was intended to be full of glitz, glamour and a fun event, with plenty of celebration in support of this worthy cause.
The business community from far and wide rallied in support of the event, with over 550 guests booked in to attend, including members of Adelphi Lodge, in support of this charitable fundraising effort. Sean in opening the event, revealed the charitable fund-raising effort was to try and raise a magnificent £50,000 on the night.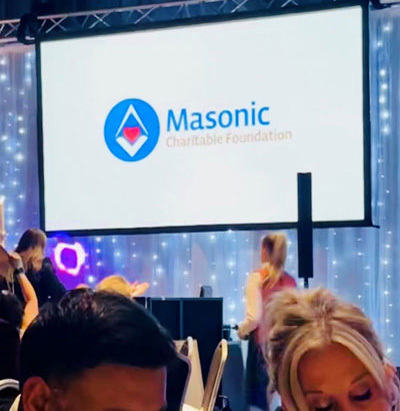 In opening the event, Sean said: "We hope that those attending the night, will be able to dig deep and push us towards our target goal of £50,000, if we can do this, then families across the Liverpool City Region will continue to receive quality care." Sean was joined on the main stage by Fiona Murphy who spoke from the heart and said: "To work in end of life and bereavement care is massive and a real privilege. Dying is a normal part of life and we need to be equipped to deal with this and the SWAN model has been set up with this specifically in mind as we only have one chance to get is right. We can't go back and fix it if we get it wrong. A simple example is when a patient or family may request a M&S dessert, a bottle of prosecco or their family pet to be brought in, then there are no boundaries".
 The event held a number of fund-raising auctions, including signed photos of Steven Gerrard, Frank Bruno's boxing gloves, Mohammed Ali and Pele signed photograph, and thanks to a donation from Joe Muscroft of Adelphi Lodge, two signed footballs of the entire Everton and Liverpool Football Club, as well as signed football shirts of Gary McAllister and Robbie Fowler, the fund-raising event was in full swing. The West Lancashire Freemasons Charity logo proudly displayed to highlight the wonderful work that the charity does for the region for all of the guests to see.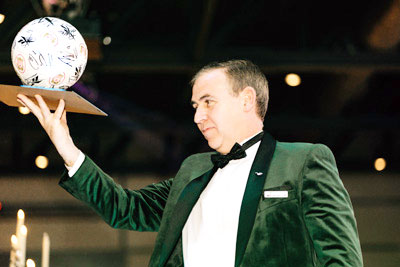 After a fantastic evening's entertainment, it was time for the big reveal, with a drum roll and palpable excitement, the grand total for the evening fund-raising event was revealed; an amazing £51,661.05 had been raised. The assembled guests applauded with delight and an incredible effort by all who had attended as well as other donations, had not only met the target but exceeded it by some margin. Sean was overwhelmed by the generosity of friends, family and businesses who all played their part in making the ball a huge success and thanks them all from the bottom of his heart.
A short while after the event, a presentation of the cheque was made to Fiona, and the staff at the SWAN model centre, on the roof top of the new Royal Liverpool University Hospital. It a glorious sunny day when Sean presented the cheque to. Fiona, and she commented on behalf of herself and the team at the SWAN model, how grateful they were for the incredible fund-raising effort, and for the impact that would have on patients and family in a way that may never be measured.
We are all taught the distinguishing characteristic of a Freemason's heart is charity, and Sean has demonstrated this in no small measure by the fantastic achievement of what it is to be a Freemason through this incredible fund-raising effort.