At the Carnforth Chapter No 4951 2023 installation convocation attended by Assistant to the Provincial Grand Principals Barrie Crossley, who was representing the Grand Superintendent Mark Matthews, three new principals were installed.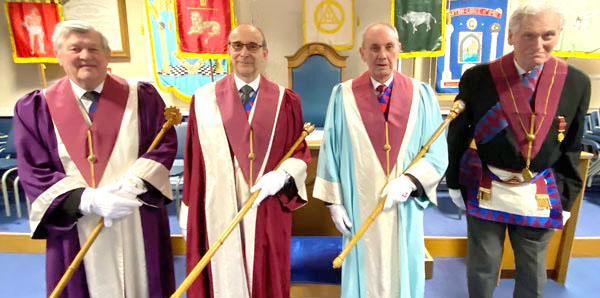 Mark was accompanied by grand officers Peter Mason, Keith Lowson, Chris Band and John Robson. They were joined by Lancaster Group Vice Chairman Scott Devine and group Secretary Chris Larder. Acting provincial grand officers in attendance were Provincial 2nd Assistant Grand Sojourner Norman Mitchell, Provincial Grand Standard Bearer Graham Lloyd and Provincial Grand Stewards Barrie Bray and Ken Needham.
Phil Newby was acting and installing scribe Nehemiah. The ceremony was conducted by director of ceremonies Alan Procter who presented the three principals. Roger Nevinson, who remained as third principal; Kevin Beaumont who was installed as second principal and David Jackson who was installed as first principal.
The robe addresses were given by Brian Warrington to the third principal, Keith Lowson to the second principal and Chris Band to the first principal. A £500 cheque for the West Lancashire Freemasons' Charity was presented to Barrie Crossley by immediate past first principal Peter Wood. Barrie thanked the companions of the chapter for their generosity.
With the chapter work complete, 37 companions retired to dine at the festive board. The toast to first principal, David, was given by immediate past first principal Peter Wood. The raffle raised £178 and £118 was donated to the charity plate.
First principal David Jackson is 58 years old and married with two adult children and three grandchildren. He is employed as a commercial driver trainer for hazardous goods. David has been a member of Silverdale Lodge 6926 for 26 years and was WM in 2005. His hobbies include caravanning, amateur radio and looking after his large garden.
The chapter was delighted to be able to welcome David's father, Tony, who has recently been unwell. Tony is a member of Rowley Chapter No 1051, and his father was one of the founders of Carnforth Chapter No 4951