Number 50 can mean many things for many people; a half-century in cricket, a milestone birthday, a lottery number! For companions and visitors of Chapter of Perseverance No 155 however it was cause for celebration of the golden jubilee in Royal Arch Masonry for Brian Anthony Jackson.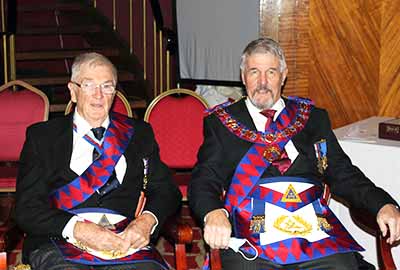 The chapter was duly opened and welcomed the principal guest, Deputy Grand Superintendent Paul Renton, accompanied by distinguished guests and Gladstone Group Chairman John James.
First principal David Berrington on behalf of the companions welcomed Paul to the chapter on its special occasion. Paul then sat next to Brian and congratulated him on reaching his golden jubilee in Royal Arch Masonry.
Paul explained that 1971 was a very special year indeed; noted for many firsts. Walt Disney World opened in Florida, McDonalds produced the quarter pounder burger, Willy Wonka and the Chocolate Factory film was released and of course, Brian was exalted in Royal Arch Masonry.
Following the introduction, Paul then delivered a superb oration of the journey for Brian through the last 50 years, both personally and in Masonry. Paul highlighted many special occasions; in particular remarking on Brian's achievements, becoming first principal of the chapter in 2008, his first Provincial appointment as Past Grand Sword Bearer and eventually rising to the very high rank of Deputy Grand Superintendent. Paul praised Brian for all he had given to Masonry in a way that was both heartfelt and humorous. At the end the companions had an amazing insight into that journey and rose in applause and congratulations for Brian.
The chapter business having been concluded, over 60 companions and guests retired to the Empire Suite in the Adelphi Hotel to enjoy the festive board and participate in the celebration. The three principals were united in their praise for Paul in leading the celebration and in return, Paul commented that he was delighted to be part of such a wonderful occasion.

Brian then rose to express his thanks to the chapter and all those in attendance for taking part in his golden jubilee and that he had thoroughly enjoyed the last 50 years. The companions and visitors in response were all united in their toast to the health of Brian and his amazing achievements.
All too soon the festivities of the evening drew to a close and with the janitor's toast being the last, an excellent occasion of a golden jubilee celebration will be a memory which long lasts for those who were privileged to be present.