Having celebrated 50 years in Tithebarn Lodge No 8446 and several other Masonic Orders at Poulton Masonic Hall, the celebrant Brian Sager decided that the money collected for charity on the occasion should go to Brian House Children's Hospice in Blackpool. With all funds included from the night Brian was able to donate the sum of £500 to this very deserving charity.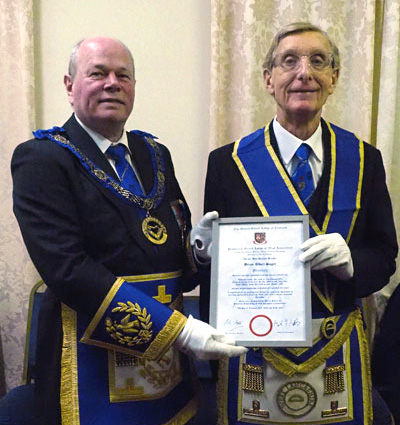 The children cared for are very fragile and have many periods of illness; but Brian House is about making the most of every day and packing all sorts of experiences and happiness into lives that can be all too short. Brian House provides respite, palliative and end of life care for children and young people with life-limiting conditions. That means they care for youngsters both during the day and overnight, also supporting their families at every step of what can be an unpredictable journey.
There's no such thing as a 'standard' Brian House child, they may suffer from a range of complex conditions that impact on every aspect of their lives. The hospice caters for them all, getting to know their likes and dislikes, understanding what their needs are and often forming close relationships with them and their families. Like all children's hospices, they work with many other local health care services, including the hospital, to take a joined-up view of care, putting the needs of the family at the heart of everything they do.
Brian Sager's celebration ceremony was led by Assistant Provincial Grand Master Duncan Smith in the presence of a packed house in the lodge room. Duncan thanked everyone for their attendance and told the story of Brian's rich and varied life, starting with his parents Arthur and Betty Sager and the birth of their son Brian in November 1946, giving him the title of 'Baby Boomer' being one of the many extra babies born just after the end of World War II.
By all accounts Arthur Sager was a bit of an entrepreneur. Having already worked in a mine and owned and built up a successful window cleaning business, before moving his family to Blackpool he had also purchased a Crossley limousine, which he used for weddings and other special occasions. On arriving in Blackpool Arthur purchased a greengrocer's shop in Bispham. This led to Brian attending Bispham Endowed Junior School.
However, Arthur's entrepreneurial spirit led to his purchase of a hotel, run by his wife, Betty, who had been a typist and secretary at the Metrovix heavy engineering plant in Trafford Park before their move to Blackpool. Arthur also purchased the Blackpool Guardian newspaper, two cafes, a fish and chip shop and a caravan park.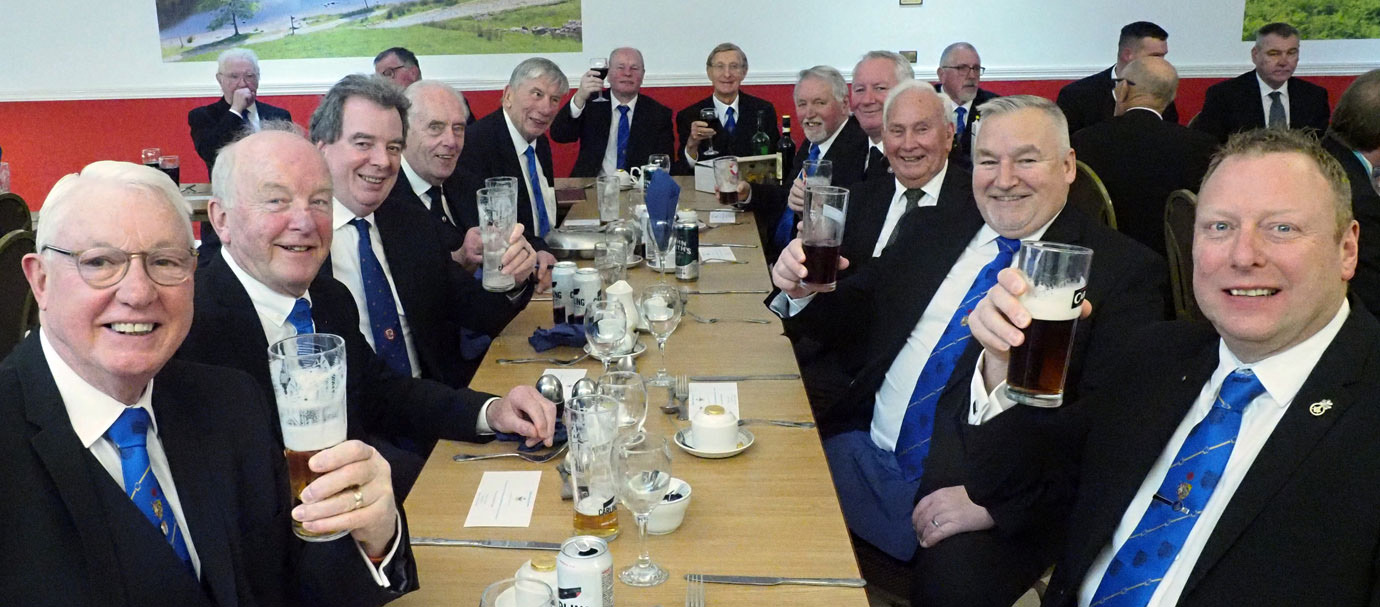 When Brian moved from Bispham to Central Drive, he attended Revoe School, on Grasmere Road, for the last two years of his primary education. The family then moved to the Boarding House on Nelson Road which was within the catchment area of Arnold School. Brian passed the entrance exam and spent the whole of his secondary education there. It was a very strict school with Latin on the syllabus and Brian even had to attend on Saturdays for double chemistry and double physics!
Brian's first job on leaving school was as a trainee accountant at Neville Wiseman on Queen Street. He then went to work for Lewis's as a trainee manager where he stayed for about 18 months. After which Arthur bought a large empty shop on Central Drive and converted it into a self-service supermarket, which were not so common in those days. He then bought another shop on Church Street to do the same and told Brian he would match his wages at Lewis's if he would go and run the shop.
Arthur's next enterprise was in conjunction with a wealthy Japanese businessman who owned a caravan site at Heysham, and he agreed to rent out the supermarket, newsagents and fancy goods shop to Arthur. However, after a year of getting up at 4am to deliver the papers to the caravans, Arthur handed over control to Brian saying: "I'm going to give you this business as your first step up in life." It was a great business and Brian earned enough to not have to work during the winter months.
Arthur continued in this entrepreneurial vein for the rest of his life and Brian became a chip off the old block with ventures into the cash and carry business as well as producing frames for scrolls, certificates and family trees.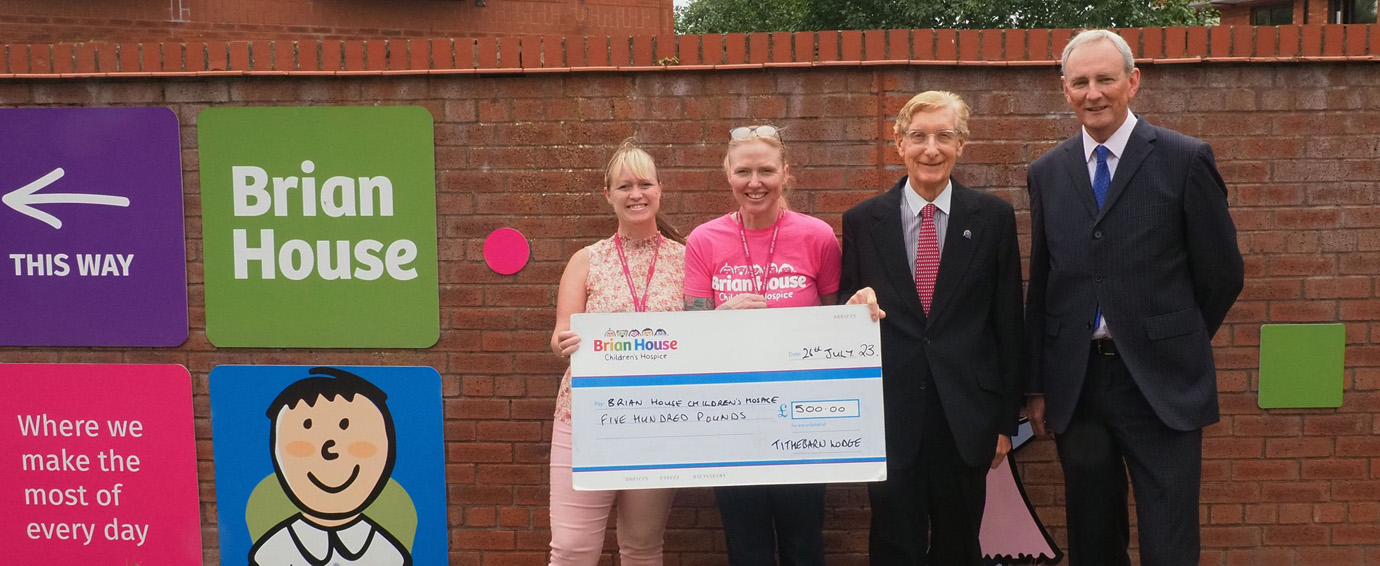 Duncan Smith began the history of Brian's Masonic career by asking the lodge secretary, to read out a précis of the minutes of the lodge meeting held on 17th January 1973, which was the evening that Brian joined Tithebarn Lodge at the age of 26 years. Duncan then went on to add that Brian went through the various offices of the lodge and he was installed as WM in 1979, doing two consecutive years in that office due to the death of the senior warden.
During those years, Brian visited many lodges and every time he was asked to respond on behalf of the visitors he did so in rhyme. He also had a reputation for putting on wonderful social occasions, and his Ladies Evening at the Winter Gardens was no exception, sitting on a raised platform with the obligatory breakfast at 1 O'clock in the morning.
In addition to Tithebarn Lodge, Brian also joined Melita Lodge No 6783 and Senatores Lodge of Installed Masters No 8966, of which he became the WM in 2008 and he is an honorary member of Wyre Lodge No 7704 where he has been a regular visitor for many years.
Having completed the story of Brian's life, Duncan presented him with his 50-year certificate, which had been signed by the Provincial Grand Master Mark Matthews and read by group chairman John Robbie Porter. A 50-year badge was also presented by John Robbie at the festive board.
At the festive board, Brian was further presented with an elaborate greetings card to mark this wonderful occasion by the members of Wyre Lodge. As ever there was a raffle and with the proceeds of the alms plate and several other donations, Brian was able to donate the entire proceeds to Brian House Children's Hospice. This sum was presented to Community Fundraising Managers Michelle Lonican and Joanne Jenkinson by Brian Sager and Tithebarn Lodge Charity Steward Alan Mitchell at Brian House on a rare sunny day in summer!