How would you spend your birthday? Perhaps a meal, trip away somewhere, or a quiet day at home. Things may be a bit difficult at the moment, but nothing could deter Bob Olive from taking the plunge on the day he reached 80 and joined the ranks of the octogenarians.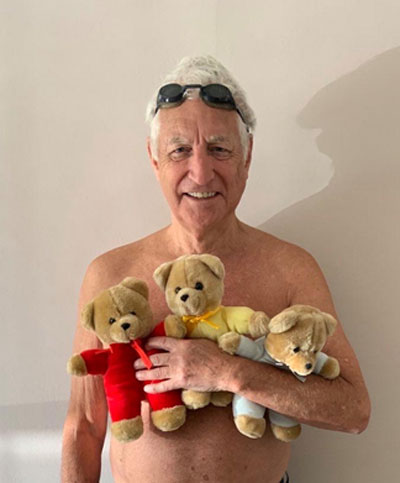 Bob didn't just take to the pool though. He decided to celebrate the occasion by swimming a length for every year in a 25-metre pool, and hopefully raising some money for the Chorley and Preston Teddies for Loving Care.
Teddies for Loving Care initiative provides unique cuddly bears to accident and emergency departments for medical staff to give at their discretion to young children. The bears are used to calm children down, reward them for being brave or to demonstrate procedures. Often the bears distract children so nurses and doctors can get their jobs done quickly and efficiently. The TLC teddy has become an invaluable tool for medical professionals and a real comfort for children.
The work of TLC is funded through the generous donations of Freemasons, their families and supporters of the programme. Many Freemasons also volunteer 100s of hours each year to manage the scheme, deliver bears to hospitals, campaign to raise funds and increase awareness through events and talks. There are 47 regional TLC programmes across England and Wales that provide teddies for their local A&E departments.
Once a hospital joins the scheme, they can replenish teddies on request through their local TLC representative. Some TLC programmes also donate a portion of their TLC funds towards teddies for minor injuries units, children's wards and hospices; there are even teddies flying on air ambulances!
Bob, a former Police Officer and member of Leyland Hesketh Lodge No 986, is a keen supporter of the local Teddies for Loving Care charity and likes to keep himself fit. Of his swim, Bob's initial comment was: "It now takes me about 10 minutes longer than it used to."
The Preston and Chorley charity has already been responsible for over 40,000 teddies gifted to sick children in local hospitals. Bob's efforts have already raised £1,200 of an £8,000 target and is particularly keen to recruit 'Angels' in support of his swim. An Angel would be tasked to raise a sum of £100 from friends, family, groups or work mates. If you are in a position to do this please or wish to give a donation, Bob's funding page is still open, to donate click here.