The weather might have been cold, wet and blustery outside the hall, but the atmosphere from within The Palace in St Annes, was 'red hot'.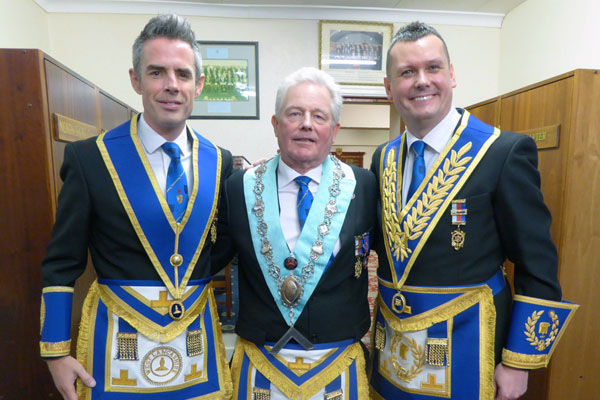 The WM and brethren of Baines Lodge No 7844 were delighted to welcome as their principal guest, a longstanding friend and brother in Bob Bennett, who had kindly agreed to perform an explanation of the 'Mark Master Mason' tracing board.
The lodge business was swiftly dealt with by John Lee before the main item on the agenda was announced and the lodge was called off.
Bob is well known across the Fylde Coast and he's become a highly regarded ritualist with a style like no other. He tells a story, and imparts through his delivery, an emotional context which has the ability to captivate all in attendance. His explanation on this occasion was no different. To top it off, he performed an explanation of the 'Volume of the Sacred Law' which was greeted with alacrity by all those in attendance.
The lodge also had pleasure in welcoming honorary member David Winder who stepped in as guest organist for the evening. His harmony and modern choice of music really set up the evening for what was to follow.
Although COVID had prevented the attendance of several key and well-respected brethren, the delicious food and unquestionable company on offer at the subsequent festive board, made it another evening to savour and to remember.
Whilst the lodge missed the company of group chairman John Robbie Porter, John Lee was delighted to announce that John Robbie was to receive grand rank at the next meeting of United Grand Lodge in April 2022. The lodge will voice its delight to John Robbie at some future meeting.
The raffle raised over £250, which was donated to the almoner's fund to continue his sterling work for the benefit of our 'lodge ladies'.
At the next meeting of Baines Lodge, Tony Harvey will deliver a lecture entitled 'Freemasonry in a post COVID world.' Tony is one of the leading speakers within our organisation and was also instrumental with regards to the member's pathway. Details of how to book a place at this lecture will be available shortly.
Come and enjoy a flavoursome curry with the boys at Baines. Our welcome is legendary.