October 2019 heralded the 50th anniversary of Robert (Bob) Bingham's initiation into the Craft. It was celebrated in grand style at a regular meeting of Birchwood Lodge No 8861.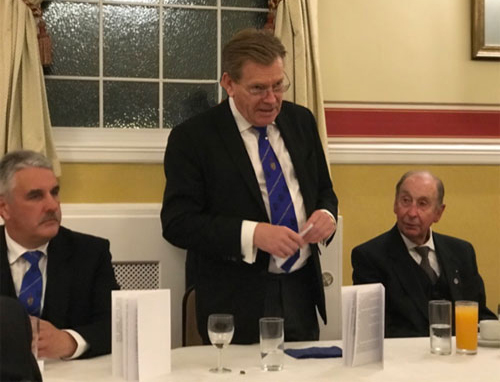 The lodge was opened by Norman Pritchard WM and its regular business was conducted. It was then announced that Kevin Peter Poynton Assistant Provincial Grand Master was without and demanded admission. Norman said he would be honoured to receive him. Kevin, accompanied by Andy Barton the Warrington Group Chairman, John Tyrer Warrington Group Deputy Chairman and the Provincial Deputy Grand Director of Ceremonies Neil MacSymons were admitted in due ceremonial style.
Norman welcomed Kevin and offered him the gavel. Kevin accepted the gavel and assumed the chair of the lodge and provided those present with a humorous and detailed biography of Bob's life and contributions to the Craft.
Born in 1933 in Birkenhead, the youngest of six brothers with 13 years between them and yes, Bob still has the scars to prove it!
Bob has happy childhood memories as a family, but also remembers collecting shrapnel from bombs to help the war effort and getting cardboard badges from the police station for doing so, with military rankings for the amount collected. Bob ended up being a General! However, his childhood was tinged with sad memories of neighbours losing loved ones in the conflict, many of whom were from the Merchant Navy, perhaps an inspiration for his later career.
Bob started work at 15 years of age as a store boy whilst waiting for his 16th birthday to become an apprentice Marine Engineer, where in a military style regime; he says many of life's lessons were learned. This included being sacked if you failed an exam and also 'you've got to be strong laddie; you've got to look people in the eye'.
After four years of being a land lubber, with a real fear of water and still being unable to swim, Bob made his first real venture out to sea with his first 'proper job' in 1953, for the princely sum of £20 per month! Which was a great deal of money in the 'olden days'!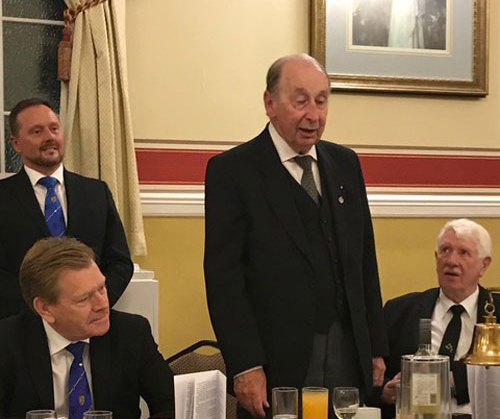 A number of promotions enabled him to travel to the USA, the Amazon, West Africa, including Angola, Liberia and all over the Mediterranean. Now being a married man since 1959 with a young family, in 1964, Bob decided to prioritise his family and to live a life onshore, in Birkenhead, as a Project Engineer. He was then employed as a sub-contract Liaison Engineer on Polaris Submarines and later as a surveyor on oil drilling platforms mostly in Norway. Again, a home life beckoned as a Project Engineer with a local firm where Bob stayed until retirement at 65. However, work with an offer from our very own Norman Pritchard was made available and so Bob continued his nine to five for another 10 years.
Married to Marjorie for over 60 years, they have two children, Lorna and Ian and a grandchild, Hannah, who has a degree in law who works in a finance company's legal office. Certainly, a life that has been lived fully and with laudable, praiseworthy achievements and priorities.
Bob remains active physically, still golfing at 85, as a member at Prenton Golf Club and also active as a valued member of Masonry in Warrington. Bob has had a fulfilling and enjoyable Masonic career starting in Prenton Lodge No 4311, proposed by his uncle and seconded by the WM of the Lodge at the time. It was a 'double first' lasting from 5:30pm to 11:45pm!
Serving in all the offices of his Craft lodge Bob was installed in the chair in November 1978. He became an acting Provincial Grand Standard Bearer in 1981, and received a promotion in 1991 to Past Provincial Senior Grand Deacon (Cheshire).
Bob sadly resigned from Prenton Lodge in 2002 but became a joining member of Birchwood Lodge in 2002-03 season. After serving in all positions in the lodge Bob was installed as WM in 2009. He still to this day stands in, as required, for officers who are unable to attend a lodge meeting.
Whilst with a main focus on the Craft, Bob still found time to be exalted into Royal Arch Masonry in Prenton Chapter No 4311 in 1972, being installed as first principal in April 1988.
Bob has only been in trouble once (he insists!) with regards to Masonry, when he tried to take an alcoholic drink into the social board of a temperance lodge. Bob, who is teetotal, tried to explain it was for a friend, but to no avail, he was still duly chastised!
Bob's popular character and sense of humour always makes a lasting impression on all that meet him and as the principal guest for the evening Kevin Poynton noted on the evening: "It is a privilege and an honour for us all to share this special occasion with Bob this evening." A sentiment that was shared vociferously by all present. It is worth noting that 35 out of the 45 attendees, at Bob's celebration, were of Provincial Rank, or above, which bears testament to how Bob is perceived in Masonic circles.
An interesting fact, when Prenton Lodge had its golden jubilee in 1971, Bob arranged for a ship's brass bell to be made and presented it to the lodge. The bell has followed Bob to Birchwood Lodge and is still used to this day.
Story and pictures by David Eccles.