Stephen Corner, the charity steward of Blainscough Lodge No 8532 presented a cheque for £250 to Jackie Moss the manager of Chorley Women's Centre on behalf of the brethren of the lodge as part of its dispersal of lodge charity donations from 2021.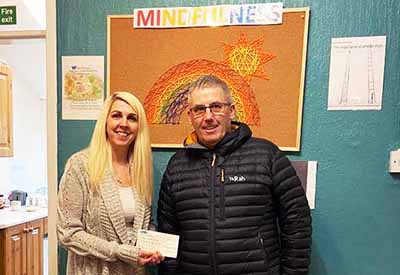 The Chorley Women's Centre was first brought to the lodge's attention a few years ago by the wife of one of its members who was helping out on a voluntary basis. At that time they were in desperate need of funds for everyday women's toiletries, so it was thought it a worthwhile cause to continue to support the charity.
For over 30 years, Chorley Women's Centre has been supporting and helping women find solutions to their problems so that they can feel empowered to help themselves. They promote the mental health and wellbeing of all women, not only in Chorley but in surrounding areas too.
They provide a listening ear either on a one-to-one for more personal issues or they have a communal area where ladies can chat amongst themselves and discuss many topics from childcare to different coping skills, share ideas, engage in the centre's activities or just to seek help, advise others on many issues or just sit and have a coffee or tea and a natter.
Centre manager, Jackie Moss, was thrilled to receive the donation and said it would help out immensely with the services the centre provides. She thanked the brethren of Blainscough Lodge for their kind generosity and support.