During those rare moments when not performing ceremonies, Blackpool Lodge No 1476 have hosted 'Gentlemen to Dine' evenings. With the lodge calling off and potential members being invited into the lodge room for a talk on Freemasonry. These evenings have resulted in a 30% increase in lodge membership.

The September 2023 evening was enhanced by the attendance of Provincial Mentor Stewart Cranage who gave a most interesting talk, which explained the structure and development of Freemasonry in Blackpool and in the Province of West Lancashire. Stewart also distributed a leaflet that he has produced entitled 'Reasons to Join' which explains more and also includes information likely to be of interest to potential members in the Blackpool area.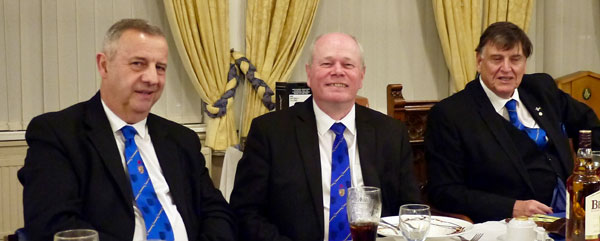 In addition to Stewart, the evening was attended by Assistant Provincial Grand Masters Duncan Smith and Peter Lockett with grand officer David Edwards, Blackpool Group Chairman Stephen Jelly and Provincial Grand Membership Officer Neil Ward.
After the talk, the members and guests retired to the dining room to enjoy a fine meal and convivial company at the festive board. The raffle raised over £200 for local charities. The evening ended with the WM Ray Lamb thanking everyone for attending, especially the potential members, hoping that they would join Freemasonry and enjoy many more festive boards with Blackpool Lodge.

Story and photography by Gordon Ivett, Blackpool Group Publicity Officer.