Herbert Ross, known to all simply as Bert, is a very special man and Mason, and it was an absolute privilege for all who travelled to Chester to join with him in the celebration of his diamond jubilee in the Royal Arch. Bert, although a surprisingly sprightly 97-year-old, is no longer able to attend the chapter, but members, group and Provincial officials and family were delighted to bring the celebration to him.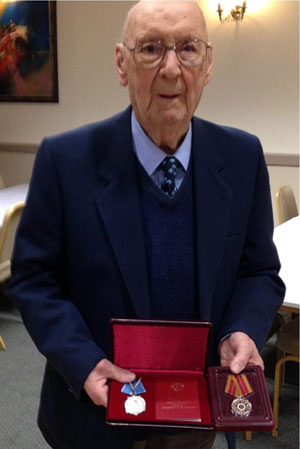 Bert was initiated into Wigan Lodge No 2326 in December 1956 and has served with distinction ever since. He was raised in February 1958, and become a steward later that year, until serving as secretary before passing through the offices to take the mastership of the lodge in 1970. He then served as treasurer until taking on the role of ADC from 1976 to 1987. In 1983 he was appointed to Provincial rank of PPrSGD, and became Secretary of the Wigan Group in 1986, and served as vice chairman from 1991 to 1995. Promoted to PPrJGW in 1983 and was appointed to PAGDC of the UGLE in 1991, only the second member of the lodge to achieve grand rank.
From 1992 to 1997 he was Chairman of the 1997 Festival. All in all, a very distinguished career. His Royal Arch service began in October 1959 when he was exalted in Wigan Chapter No 2326. He served as treasurer and was installed as first principal in December 1975. From 1981 he served both as ADC and DC until the end of 1989. In May 1983 he received his first appointment in Provincial Grand Chapter as PrGStwd and was promoted to PPrGSN in 1987. He received grand rank in Supreme Grand Chapter in April 1992.
In his private life, Bert was born in Bolton in 1922, to Edwin and Mary and shared his childhood with two half-brothers, three brothers and one sister. Following his education at Bolton Grammar he commenced his career as a chartered accountant at the firm of Cooper and Cooper in 1939.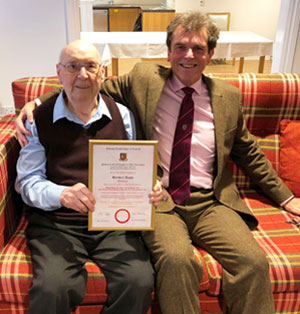 The war interrupted this career when in 1942 Bert volunteered for the Royal Navy, serving on HMS Sheffield and two aircraft carriers in the Russian and North Atlantic Arctic theatres, protecting the convoys in very difficult and dangerous conditions. This was recognised when Bert was honoured just a few years ago by the Russian Government in recognition of the service he gave whilst serving in the Royal Navy protecting the Russian convoys over 70 years ago, which he was rightly proud to receive.
The Medal of Ushakov is a state decoration of the Russian Federation that was retained from the awards system of the USSR post 1991. Fyador Ushakov was a heroic Russian naval commander of the 18th century, a contemporary of our own Horatio Nelson. The Medal of Ushakov is awarded to soldiers and sailors of the Navy and of the Border Guard Service of the Federal Security Service of the Russian Federation for bravery and courage displayed while defending the motherland and the public interests of the Russian Federation in naval theatres of military operations.
Not only did Bert receive the Ushakov recognition, but also a letter from the Russian Ambassador in London on the instruction of no less a person than President Putin. The British Navy also decorated Bert when he was awarded the Arctic Medal in 2013.
It was whilst serving on HMS Jackdaw in Crail, Fyfeshire in 1944 that Bert met his late wife Wendy, with whom he shared 66 years of marriage, being blessed with a daughter, Susan, two granddaughters and three great-grandsons.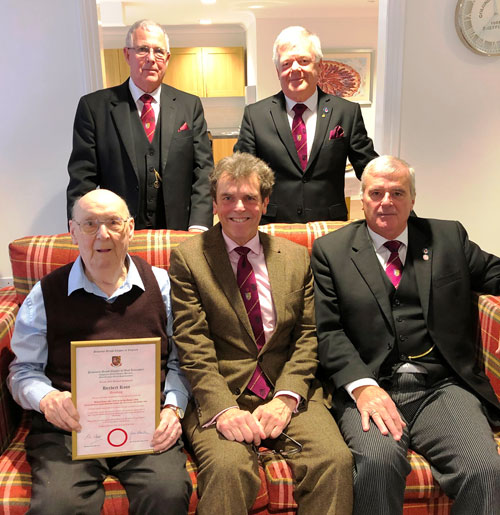 In 1946, Bert rejoined his old accountancy firm in London, where he qualified with the Institute of Chartered Accountants, and returning up north, worked for several commercial firms in Wigan before taking up a senior auditing position with Wigan Borough Council in 1967, where he remained until retirement in 1985.
Bert is a lifelong Bolton Wanderers fan and saw his first match nearly 90 years ago at Burnden Park. He remembers in detail the disappointment of going to Wembley in 1953 and paying five shillings to see his beloved team beaten four three by Blackpool in what is remembered as the Stanley Mathews final. He also witnessed his side beat Manchester United in the 1958 final following the Munich air disaster. Bert was also a keen golfer, playing regularly at Dean Wood and Duxbury golf courses. He and Wendy were regular attendees at Wigan Parish Church where Bert was a sidesman for many years and the honorary auditor for 10 years.
Accompanying chapter members and partners were group chairman Geoffrey Porter together with Assistant to the Provincial Grand Principals Mike Threlfall. All had a lovely chat with Bert, before Geoffrey completed the formal part of the celebration by reading the special certificate of his 60 years of service, which was presented by Mike.
Bert has had a wonderful voyage, both through life and in Masonry. Happy sailing Bert, and may the voyage continue with health and happiness.