Even though one or two officers were unable to attend on the evening, Baldwin Chapter No 1398 was in the very capable hands of the director of ceremonies Graham Slater, and the ceremony could not have gone any smoother. The proclamation of David Grainger was a joy to behold.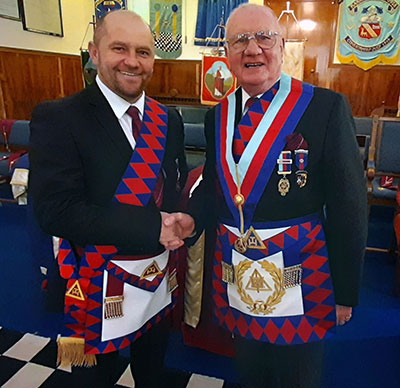 Darren Stainton, the first principal of Baldwin Chapter opened the ceremony, ably assisted by Brian Fallows and John Myers, who kindly stood in for Mike Benson and Carl Hallows. After the business of the chapter was completed, the grand and acting Provincial grand officers were admitted. The representative of the Grand Superintendent for the evening was Harry Chatfield, accompanied by Peter Schofield, Rowly Saunders, Alan Jones, John Quiggin, Phil Preston, Barry Fitzgerald and acting officers Harry Kilgour, Craig Foster and Alan Hilton, all who added to the splendour of the ceremony held in the Barrow Masonic Hall.
Harry, thankfully, was able to stand in at the last minute for Chris Band and took on his first principal guest role with ease – especially with Graham at his side!  Although the ceremony was curtailed somewhat, the sincerity and dignified manner with which Graham conducted proceedings did not go unnoticed.
The robe addresses were delivered perfectly. Malcolm Brown, David Sear and Bill Coates explained the first, second and third principals' robes respectively; the longer version of the address to the second principal being appreciated by all.
Harry thanked Darren for his work within the chapter over the last two years saying: "The false starts to meeting again, cannot have helped in Darren's preparations, but I am sure W J A Baldwin, the first principal in 1891 would have been impressed. To still be able to hold chapter meetings after 130 years is a major achievement and Darren has certainly played his part in that continuum." The words of praise were was thoroughly deserved.
An excellent festive board awaited the 48 companions down stairs where Harry Chatfield complemented the 'quiet and unassuming companions – Graham Slater and secretary David Sear – who work tirelessly in the background, so that evenings like this run smoothly'.
David Grainger thanked all for attending, especially after the news of the day, when more restrictions were back in place. David announced that the raffle had produced a magnificent total of £290 for charity and before the janitor's toast given by David Sear, he wished the evening would continue to allow each other to chat and rekindle old friendships.