The Geoffrey Hirst Masonic Suite at Woolton Golf Club was the venue for a high-ranking turn-out from Past Assistant Provincial Grand Masters, to grand and acting Provincial grand officers at the golden jubilee celebration of Arthur Cregeen of Lodge of Tranquillity No 3877.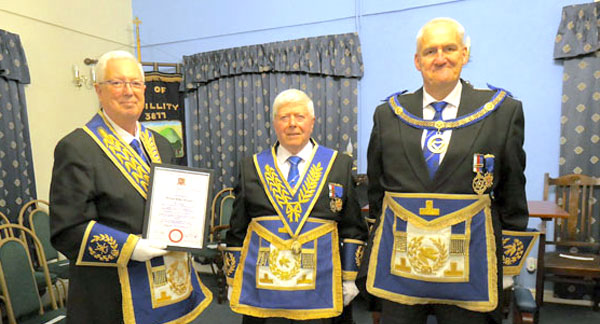 Lodge WM Ian Bloomfield accompanied by his wardens paraded into the temple led by their tyler Tommy Lunt. The lodge was opened in the first degree so that the master elect, David Boyes, could be declared for the ensuing year and Alan Routledge as treasurer. The lodge was opened to the second and third degrees.
David Boyes, Assistant to the Provincial Grand Director of Ceremonies, was announced and he reported that Andrew Whittle, Assistant Provincial Grand Master, stood outside and demanded admission. Andrew, accompanied by Past Assistant Provincial Grand Masters, grand and acting Provincial grand officers, entered the lodge in due form.
Andrew was welcomed by the WM who offered him the gavel of the lodge which Andrew gratefully accepted. Salutations were offered to Andrew, and he thanked the brethren present and then closed the lodge to the first degree. The celebrant was placed before Andrew who then gave the brethren a resume of Arthur's life history.
Arthur was born in 1939, a memorable year in which World War II started and Nazi Germany attacked Poland in September which prompted France, Australia and United Kingdom to declare war on Germany. The first Anderson shelter was built in London and the IRA carried out two bombings on London underground stations, Tottenham Court Road and Leicester Square. On a lighter note, two well-known singers were born, Tina Turner and Marvin Gaye, along with actors Ian McKellen, Paul Hogan and John Cleese.

He was the second born child to Thomas Henry Cregeen and May, who already had a daughter and older sister to Arthur, Mona. In 1949 the family were blessed with another daughter they called Ruth who is now 73 and living on the Wirral. Arthur's mother May worked at Ogden's Tobacco factory on West Derby Road in Liverpool, but she had to give up work due to ill health when Ruth was born.

Arthur's father was a marine engineer with the Pacific Steam Navigation Company and consequently was away from home during Arthur's early years. This company would later be sold to Harland and Wolff, shipbuilders, who at their peak employed in excess of 35,000; they also had a shipyard in Bootle. The biggest legacy of this company is that they still have to two gigantic cranes in Belfast known as Samson and Goliath situated in the Titanic Quarter in Belfast.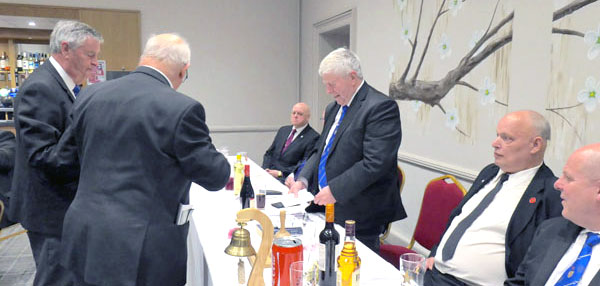 Early life for Arthur was at Tilston Road in Fazakerley where he attended Ranworth Square Infants and Junior School up to the age of 11. Further schooling was at Florence Melly Senior School for boys which had been named after Florence Melly and was an award-winning design whereby the school was built around a courtyard which had glass walls and a veranda. Arthur was a keen sportsman during his formative years, but it was in athletics that Arthur excelled running the 400 metres on the track and discuss on the field. He achieved a rank of number three in Liverpool for his age (but he still can't achieve number one in the DCs Mess!)
After school, Arthur started work Reads Tin Works in 1954 where he stayed for one year and in 1955 began a five-year engineering apprenticeship at Grayson, Roll and Clover Dock in Sandhills Lane. At the end of the apprenticeship, he took a job as junior engineer at Athel Line Tankers which started a short life at sea.
At 25 years of age, Arthur was set up on a blind date where he met the love of his life, Ann and they were married in 1966. Sadly, in 1994 Ann passed away and never got to meet her grandchildren. Her passing left a giant hole in Arthur's life.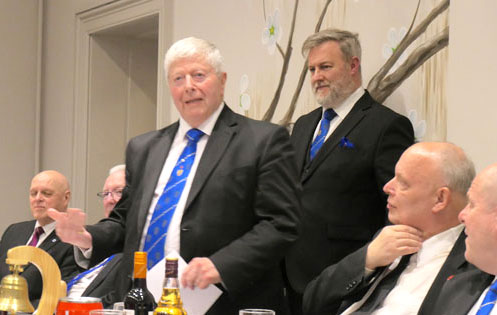 Arthur has had a varied and colourful Masonic career and such is the heart of the man, that he had brought along his DC's wand, just in case! In the DCs Mess he is known as WAC (William Arthur Cregeen) and is the senior non chain bearing member of the Director of Ceremonies Mess which affords him the honour of placing the Provincial Grand Master in the procession when leaving Provincial Grand Lodge.
For all the work he has done for the Province, in Craft and Royal Arch, he has been recognised on several occasions and on this occasion many of his colleagues who were not on official duties turned out to show him the respect he deserves wish him well and celebrate his golden jubilee. The full text of Andrew's speech can be read by clicking here.
Story and pictures by Colin Roberts.