The Lever Park Lodge No 8144 March meeting could only mean one thing, it's that time of year for the 'Gents to Dine Old English Night'.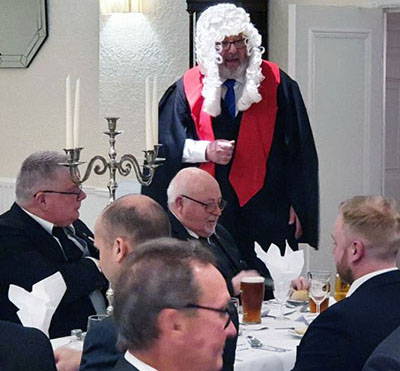 It was another busy night for Lever Park Lodge as packed lodge room enjoyed a short meeting which was blessed with many visiting brethren from around the globe – well Cyprus!! The lodge business completed; the assembled members retired to join their guests in the Ridgmont House's dining room.
The black pudding was still warm when the festivities were interrupted by the night's fines master Peter 'The Judge' Hannis who proceeded to fine the diners for a variety of misdemeanours which were deemed punishable by the Judge to the amusement of the gathered diners.
The harshest fines being handed out for heinous crimes such as wearing rainbow socks, fines for the junior warden, senior warden and master for not realising they were wearing the wrong cuffs and the senior warden for losing his gavel at the festive board.
The night ended with a furiously contested raffle for a number of prizes donated by the WM Geoff Gorner. A great night was had by all with the fantastic result of over £450 being raised for charity and the added bonus of a number of guests asking how they could join the fraternity. Names taken and forms exchanged.
Members and their friends are now looking forward to a bowling day at St Paul's Adlington Bowling Club on Sunday 5 June 2022. The future is bright at Lever Park.