Over 40 Masons gathered to witness what should have been a double third degree at Anfield Lodge No 2215. Unfortunately, however, one of the candidates was unable to be present so a single ceremony was conducted. Nevertheless, the circumstances of the raising made it a fairly unique event.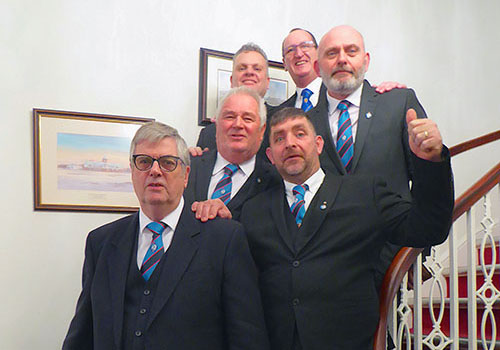 The candidate was Andrew Fleming of Football Lodge No 9921 of the Hampshire and Isle of Wight Province, a Province with 254 lodges under its jurisdiction. Anfield Lodge and Football Lodge have, understandably, become great friends and on this occasion six of the brethren of Football Lodge travelled up to Woolton to witness the ceremony and support Andrew who had been initiated in May 2018 and passed in March 2019.
The WM of Anfield Lodge Eric Carroll thanked everyone for attending and opened the lodge whence the general business was dispatched with alacrity so that the lodge could be opened to the second degree. The immediate past master Alan Ledger was asked by Eric to assist with the ceremony and to occupy the chair. On doing so he asked if there was any brother present desirous of being raised to the third degree. Andrew Fleming being present answered the usual questions and was entrusted, and as the ceremony demands, retired from the lodge so that he could be prepared for the rest of the ceremony.
In Andrew's absence the lodge was opened to the third degree and the tyler informed the WM that Andrew was ready. Andrew was escorted by the senior and junior deacons and in a sincere ceremony was raised to the degree of a master Mason, receiving the traditional history and an explanation of the working tools from Alan Ledger.
The Woolton Group Chairman Andrew Whittle requested that the secretary send notice to Football Lodge's secretary and their Provincial secretary that Andrew had received the traditional history so that Football Lodge would then be able to apply for his Grand Lodge certificate.
Sean Whelan of Football Lodge and also a member of Anfield Lodge provided a rendition of the 'Walking Charge' which everyone present duly appreciated.
The lodge treasurer Dave Dutton presented the audited lodge accounts which were accepted and the secretary provided details of the various communications before the lodge was duly closed so that the brethren could enjoy pre-dinner drinks.