The Chairman of Warrington Group Andrew Barton made his first visit to Swinton Masonic Hall forhis second ceremony as representative of the Provincial Grand Master Tony Harrison at the installation meeting of Swinton Lodge No 6100.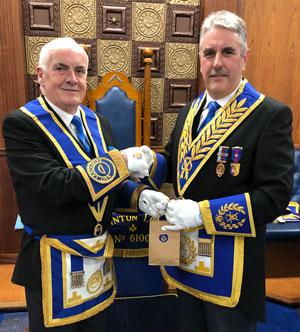 On arrival, Andrew was greeted by the Eccles Group ViceChairman Patrick Walsh who presented him with the traditional Eccles cakes which were thankfully received.
After opening the lodge and welcoming Andrew, who wasaccompanied by Patrick Walsh and grand officers Alec Neilson, Tony Edden and John Hutton,the WM James Edwards continued with the nstallation ceremony.
Master elect Alan Roberts was then presented by Tony Edden and the ceremony continued with Alan being installed in the chair of King Solomon.
The working tools of all three degrees were presented by Tony Edden. The address to the WM was given by Ray Luca and the address to the wardens by James Edwards. The address to the brethren of the lodge was given by Andrew Barton.
On conclusion of the ceremony Andrew congratulated Alan on reaching the chair of King Solomon for the seventh timeand extended the greetings and best wishes of the Provincial Grand Master. He also congratulated installing master James and the officers who took part in the ceremony for their fine work.
Alan then presented two cheques to Andrew on behalf of the lodge; to the MCF 2021 in the sum of £350 and £50 to the Ecclesholme. Andrew thanked the lodge members for their generosity.
At the festive board Andrew responded to the toast to the grand officers and expressed his gratitude for the hospitality shown to him. He thanked the grand officers and the group vicechairman Patrick Walsh for their support. He went on to say that this was only his second visit as the representative of the PrGM and his first visit to Swinton Masonic Hall. He said that he was very impressed with thehall and congratulated the hall committee for the excellent work that they had put in to make this a wonderful venue.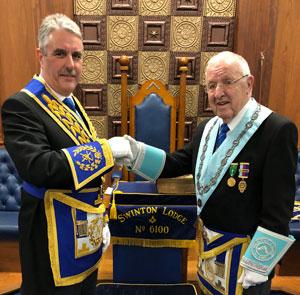 Andrew spoke about the new online resource from Grand Lodge called Solomon which provides a wealth of information at everyone's fingertips.He thanked the lodge for the generous donation on behalf of those who would benefit from it. As charity is at the heart of Freemasonry, Andrew urged those who hadn't invested in a Festival Jewel to do so as the Festival wins with both the donation and from the tax as well.
Continuing, Andrew offered his congratulations to those brethren who have just been given either their first Provincial honours or promotions.
Andrew wished Alan and the brethren a happy and healthy year ahead. A good master and good brethren help a lodge flourish and he hoped it would do so.In conclusion, Andrew said that he had thoroughly enjoyed his first visit to Swinton and that he looks forward to returning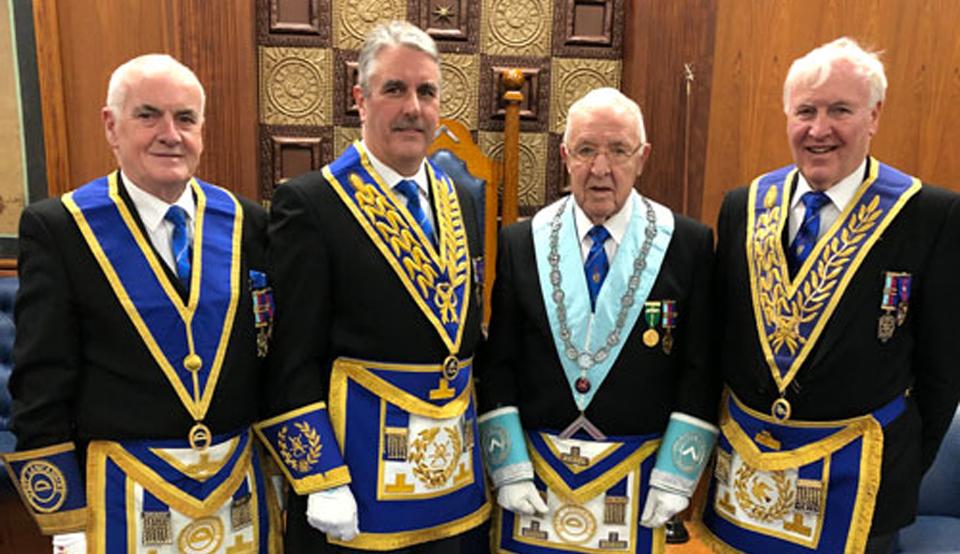 Article by Tom Fredrickson and pictures by Craig Sutton.