Family, friends and brethren gathered at The Park Suite in Cleveleys to celebrate the 100th birthday of Alex MacDonald Pratt, member of Peace and Unity Lodge No 3966, who was born August 1923 in Newcastle, the youngest of a large family, who came to live in Blackpool at the age of 9 years.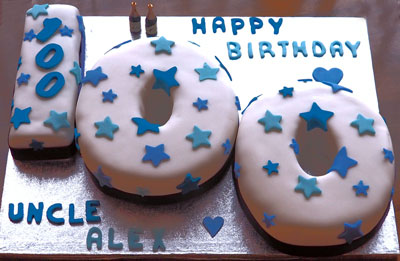 He became an apprentice electrician for Nelson Brothers in Regent Road, Blackpool. A well-connected firm with maintenance contracts for all the main hotels on the promenade, which also included Burton's Bakery, Waller and Hartley's confectionary factory and various local shops, pubs and dairies.
Because of his apprenticeship, Alex was deferred from being called up until the latter part of the war, but he still did his bit by doing fire-watch from the top of the Regent Cinema on Church St. He also taught members of the public how to wear their gas masks, this was done from a shed at the back of the Raikes Parade Hotel near Church Street.
Eventually he joined the army, and after his initial training he volunteered for the Parachute Regiment. This is when the real training began, it was at Ringway Airport (now Manchester Airfield) that Alex did his first parachute jump; he has lost count of how many jumps he has completed over his military career.
The Japanese War was still very much in the headlines and Alex was one of probably 250,000 men sent in ships as part of the British Armada in the Southern Ocean to fight the Japanese. After weeks at sea the armada received orders to cease advancement towards their destination, at this point the atom bomb had been deployed and the war was over, but not for Alex's regiment, they were re-kitted out to parachute into Palestine to try and keep the peace as 1000s of displaced people were entering the area.
After the war had ended, he met Mable, a local farmer's daughter from Marton and they married at St Paul's Church on Whitegate Drive. They adopted a boy called Steven, now sadly deceased, and they had a son of their own, Dean who, along with his family celebrated with Alex. Sadly, Mabel has passed away. In the early 1950's he joined the Electricity Board and remained in their employment until he retired in 1988.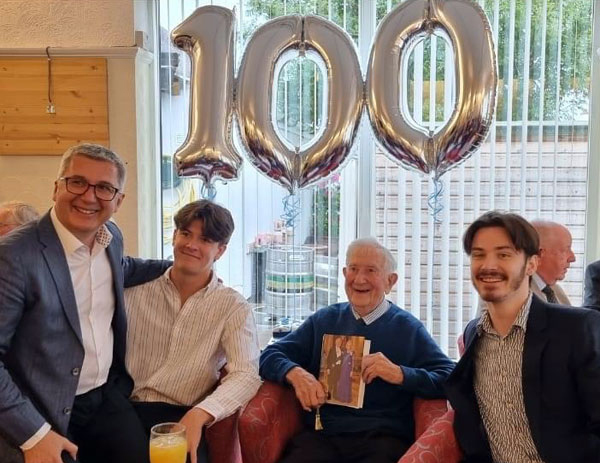 Alex still maintains a varied and interesting social life and likes nothing more than chatting with people and regaling stories of his past exploits.
Assistant Provincial Grand Master Duncan Smith informed the guests that Alex was initiated into Freemasonry in 1979, joining Landmark Lodge No 7273. The lodge met at Poulton-le-Fylde Masonic Hall before handing in its warrant in 2020. After becoming WM, he went on to become the lodge almoner and enjoyed all that the job entails, which in those days meant a lot of visiting homes, hospitals and administering help and advice where necessary.
Alex achieved Provincial grand rank and after his wife's passing after a long illness, he decided to take up Freemasonry again. So, in 2018 he joined Peace and Unity Lodge meeting at Blackpool Masonic Hall, being proposed by Mike Rogers and seconded by Jim Woods.
Alex loves his Freemasonry and goes visiting every Monday night to lodges throughout the Fylde Coast. He is an active member of Peace and Unity Lodge and all this is achieved with his very good friend Mike Rogers, who picks him up to go visiting.
Alex could of course take Mike as he still has a driving licence, but he prefers to be chauffeured around and at the grand age of 100 years, it's a perk well deserved.
Clutching his special birthday card from King Charles and Queen Camilla, Alex thanked all his friends and family for attending and helping him to celebrate his birthday. The day culminated with a fine buffet prepared by Lee Williams Catering and a special 100th birthday cake from his niece.
Gordon Ivett, Blackpool Group Publicity Officer.