Albert (Bert) Edward Hannah of Ormskirk Priory Lodge No 4007 celebrated 60 years in Freemasonry at their lodge meeting. Bert had been initiated into Liberty Lodge No 3888 on Saturday 27 September 1958.
The celebration was led by Assistant Provincial Grand Master Frank Umbers, who was accompanied by the Ormskirk and Bootle Group Chairman Graham Chambers and two grand officers John Wilcock and Malcolm Alexander. Also, in attendance were four acting Provincial officers, Mark Barton, Roderick Walker, Russell Morris and Lee Martin.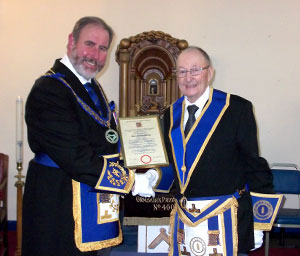 Frank opened his address by saying how honoured those present were to have the opportunity to join in the celebration and to mark the diamond anniversary of Albert Edward Hannah. He continued by stating that Freemasonry had always been about making good men better and as Masons we aim to shape our lives around the five core tenets of integrity, honesty, kindness, fairness and tolerance. He stated that everyone was there to recognise a Mason who had lived by these Masonic principles for 60 years.
Bert was then placed in front of Frank by the Provincial deputy DC Mark Barton. Frank continued by remarking that it had been a pleasure for him to spend time with Bert and for the detail he provided for him for tonight's celebration. From their conversation Frank had learnt and was pleasantly surprised that, Bert like Frank had worked for BT. He was further amazed to find out that up until the last ten years of his time with BT, their career paths were nearly identical.
Bert was born in 1931 and on 14 April that year the first Highway Code was published which cost one penny. It contained just 24 pages of advice, including the arm signals to be given by drivers and police officers controlling traffic. In the same year Whipsnade Zoo opened and the Abbey Road Music Studio's, famous for Elgar and Beatles Music. In the same year the construction of Hoover Dam began.
More importantly in 1931, Charles and Ellen Hannah were blessed with their second son that they named Albert (Bert) and they lived in the Everton area of Liverpool. In 1938, Bert and his family moved to the Walton area of Liverpool where he met his life-long friend Gordon Wainwright who was in attendance at the celebration. Bert attended Rice Lane Primary and Warbreck Secondary Modern Schools until he left in 1946.
On leaving school having worked in an office for just a year, Bert went onto to join his father, his brother Charles and Gordon who were all working for the Post Office Telephones, which became British Telecom in the 1970's, then after privatisation in 1984 British Telecommunications. On entry, Bert became a 'Youth in Training' or an Y2C2 as they were called in those days. The training consisted of three-month spells in the different work areas, spending time in various telephone exchanges, in customer premises and in the underground and overhead networks. On completion of his training in 1949, Bert was called up for National Service and joined the Royal Corps of Signals. After finishing his National Service in 1951 Bert went straight back to work for Post Office Telephones where one of the Enigma code breaking machines was housed. In 1990 Bert retired after 43 years' service and finishing as an Area Executive Engineer.
Bert married Irene in 1962 at St Philip's Parish Church, Litherland and set up the family home in Lydiate and went on to have two children. Bert and Irene have been graced with four beautiful grandchildren. Bert and Irene have travelled to many parts of the world and visited many interesting and exotic places, mostly using P&O Cruises. These cruises also gave them plenty of opportunity to indulge in Irene's love of sequence dancing.
During his National Service Bert spent a lot of time playing cricket and went on to become a keen golfer, playing at least three times a week at Kirkby and Woolton golf courses. Bert was a member of Kirkby and Maghull Community Association (MCA) Golf Club Societies.  Bert had encouraged John Wilcox a friend of many years who was present at the special celebratory evening, to join him in playing golf which helped cement a great friendship to this day.
On the 27 September 1958, at the age of 27 after being proposed and seconded by Bill and Alf Wainwright, Bert was initiated into Liberty Lodge No 3888 at the Masonic Hall, Hope Street, Liverpool. Bert became the master of that lodge in 1975 and again in 1998. Bert remained a member up until the lodge closed on 22 November 2003 having carried out the duties of secretary, DC and ADC. In 1987 and in recognition of his services to Liberty Lodge and Masonry in general, Bert received his first Provincial appointment to that of PPrSGD being promoted in 1993 to the very high rank of PPrJGW. On 28 January 2004 Bert joined Ormskirk Priory Lodge and became the master in September 2010.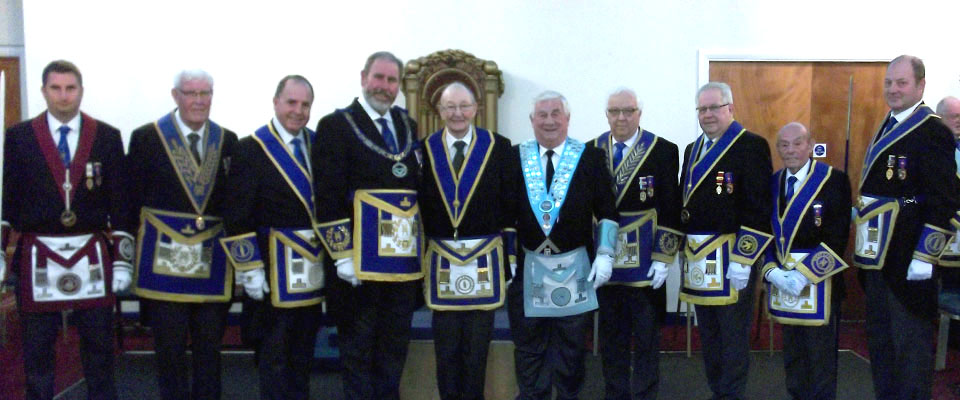 Bert was exalted into the Royal Arch in De Grey and Ripon Chapter No 1356 on 1 October 1980 and then moved to Southport Chapter No 1070 on 21 April 1988. After going through the progressive officers, Bert was installed as the first principal in December 2008.
Frank stated that the celebrant, Albert Hannah had set an example to all during his life with commitment and dedication to his family, service to his country, hard work and success in his career and dedication to Freemasonry.
After the group vice chairman read the celebratory certificate from the Provincial Grand Master, Frank presented Bert with the certificate which recorded his great achievement of 60 years in Freemasonry and to wish him the best of health to enjoy many more years as a Freemason.
The brethren then stood and applauded Albert Edward Hannah, PPrJGW of the Province of West Lancashire, on his diamond jubilee.