Alan Mitchell hardly looks old enough to be retired, but amazing as it seems his paramedic days are over. Not one to let the grass grow beneath his feet, however, Alan is filling his time by enjoying more Masonic activity. That includes his second term as master of Tithebarn Lodge No 8446 which meets at Poulton-le-Fylde.
His predecessor and installing master Mike Heed, has been no slouch during his year in the chair. When South Fylde Group Chairman John Robbie Porter presented Mike with his memento folders, containing the summonses and event cards from the evenings Mike had spent visiting other lodges and ladies' evenings, they needed two ring binder folders to hold them. Several speakers at both the meeting and the festive board which followed attested to the frequency of Mike's visits to many lodges.
The principal guest for the installation meeting was Assistant Provincial Grand Master David Randerson, who was full of praise for both of these stalwarts of Tithebarn Lodge. David referred to Mike's excellent ceremony as a 'super job.'.
He also commended other lodge members who had contributed to an excellent installation ceremony. These included the installing officers, Chris Veevers, Bob Wolstencroft and Jaques Brown. Jaques also excelled, as ever, in his presentation of the long explanation of the second degree working tools. Those in the first and third degree were finely delivered by Jordy Keane and his father Shaun Keane.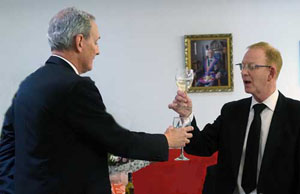 Shaun Keane also enjoyed much praise for his work as director of ceremonies on the evening. Alas, his one slip of announcing that David Winder was to reply to the toast to the grand officers caused much amusement for days to come. However, when David Randerson replied to this toast it had obviously been taken in good humour.
David was quick to praise Shaun for a fabulous meeting which had flowed with grace and precision from the start, where grand officer Keith Jackson had presented Alan, to the finish where cheques to a total value of £2,250 were presented to David Randerson, on behalf of the MCF 2021 Festival and several non-Masonic charities. David thanked the brethren of the lodge for their generosity.
The raising of monies for the next year's cheque presentation began during the meeting with a raffle which was run by group charity steward Dave McKee. This realised £270. A further sum of £40.73 was received in donations in the lodge and much more will be added to this total from the private 'white envelope' donations to the MCF 2021 Festival.
David Randerson continued by urging the need to be open about our membership. To encourage members and others to use the Grand Lodge website called Solomon, where true facts and statements about Freemasonry can be found. He encouraged the brethren to sponsor the Raven Winder walk in aid of the MCF 2021 Festival. David concluded by thanking the members of Tithebarn Lodge for their generous hospitality and by thanking group and acting Provincial grand officers for their support.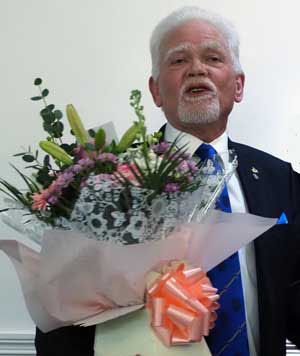 Jaques Brown again came to the fore following Mike Heeds toast to the WM. Accompanied by Malcolm Burrill on the piano, Jaques sang the master's song interspersed by much clinking of glasses by the brethren assembled, to an excellent crescendo and combined toast to the master to finish.
Mike Heed began his toast to the master by advising the brethren that both he and Alan had joined Tithebarn Lodge in 1990. During the intervening years they had become very close friends. He described Alan as somebody who always introduces a sense of fun into a lodge meeting and who welcomed the visitors with a smile and a happy word.
In his response, Alan commenced by advising that the following day would be Mike's 82nd birthday, which induced a spontaneous singing of 'happy birthday to you'. Alan continued with a series of thanks to all those who had made his second installation such a great success. Also to the officers in the background who ensure the success of the lodge throughout the year.
Having enjoyed a thoroughly magnificent evening the proceedings were concluded by Shaun Keane, who proposed the final toast to poor and distressed brethren.