After several attempts thwarted by COVID lockdowns, Alan McElhinney PPrSGD was eventually presented with his 70th year in Freemasonry certificate by Warrington Group Chairman Andy Barton.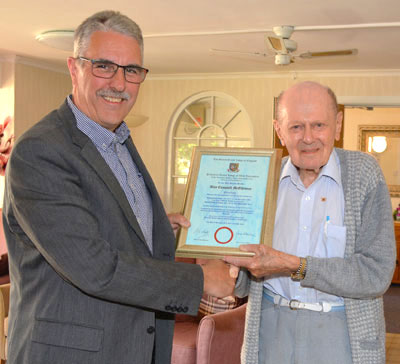 A celebratory tea party had been arranged for Alan at his home in Weaverham, attended by Andy Barton, group vice chairman John Tyrer, Peter Carter, Geoff Wright and his longstanding friend John Starkey.
John gave a detailed reading of Alan's life and long service to Freemasonry. Alan was born in Wallasey in July 1927, he claims not to remember very much about it but in that year, Lindbergh crossed the Atlantic and Al Jolson made the first live dialogue film 'The Jazz Singer' and of course, there was trouble in China. Alan's father, George, was at that time an Insurance Company Fire Surveyor and until her marriage, his mother was an Insurance Company Accountant.
In 1929 the family moved to Stockton Heath and Alan claims, luckily, his parents took him with them. In 1932. he started at Stockton Heath Council School and then on to Westleigh private school followed by Lymm Grammar School in 1937
He joined the staff of an insurance company in Liverpool during 1943 and in 1945, with call-up immanent, he volunteered for the RAF but was turned down because he was one of those earmarked for the Bevan Scheme. As a result, he served as a conscripted coal miner in Stoke and St Helens. During those years he studied electrical engineering at St Helens Technical College.
Alan was de-mobbed in 1948 he returned to insurance with a different company. Whilst the Americans were in Warrington, he enjoyed part-time taxi driving in order to finance a period in the USA. Then in 1949. He became one of the first 'Disc Jockeys,' playing records for the Winmarleigh Dance Club at the Stockton Heath Church Hall, for which he was paid half a crown (12.5 pence) per session.
In 1953 Alan was about to be re-engaged by the original insurance company but he took four months off and spent that time touring the USA. Visiting numerous lodges together with an ornate Masonic funeral which involved parading through the town in full regalia. Alan went out on an American cargo vessel from Liverpool, a journey that was to last 10 days. The planes were not much quicker in those days. Alan returned on the world's fastest liner, the SS United States, which had just taken the Blue Riband from The Queen Elizabeth. He commenced with the insurance company and obtained his first company car. At this time, he became a 'part-time' cinema operator in an attempt to recoup the expense of his American visit.
Alan qualified by exam in 1954 via Skerry's College Liverpool and the Metropolitan College St. Albans (a correspondence course). In 1955 he transferred to Warrington and became District Manager responsible for insurance activities in five local towns.
Still very keen on flying, learnt to fly later becoming qualified as a pilot in charge. In 1956 he was appointed a Director of Light Planes Lancashire. He also became a part-time aerial photographer selling pictures to various organisations. In 1958, Alan was elected President of the Chartered Insurance Institute.
Considering his future prospects and better financial rewards, in 1970 Alan decided to give the industry a go. Taking a position at Radiation Ltd and later at Rylands White Cross Ltd where he was ultimately promoted to shift manager.
He tells the story that at this time he joined the Palatine shooting team and finally got his hands on a gun for which he had waited since 1945 when the authorities wouldn't let him join the RAF!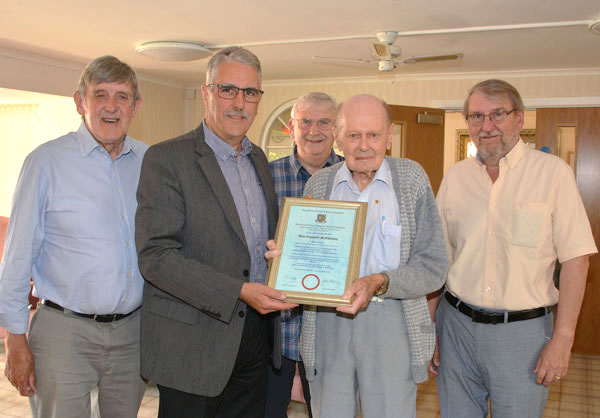 Alan realised the error of his ways in 1975 and moved back into commerce and once back on the road became Company Secretary. This gave him responsibility for locations including North Wales and the Isle of Man.
He retired and moved to Delamere in 1986 following the death of his parents and true to Alan he was soon secretary of the resident's association. A year later he managed a public house whilst the landlord was out of the country.
Alan became Clerk to Moulton Parish Council in 1990 and Secretary to a Charitable Trust and also became Secretary to a local Community Association. Alan has tried to keep himself active in his later years and has several Interests which include; short wave radio, flying (when possible as passenger) vintage aircraft, DC3's, DC6's, Rapides and assisting with administrative duties.
Alan's Masonic career started in 1951 when Alan was initiated into Winmarleigh Lodge No 6101. In 1955 Alan was exalted into the Gilbert Greenall Chapter No 1250. Graduated through all posts later becoming the first principal.
Alan presented a film in 1960 that he had shot of Winmarleigh Lodge's activities. Later presenting a talk on the 'USA and Masonry there'. This proved to be very interesting because very few people had at that time visited that part of the world. In 1961 Alan was installed into the chair of King Solomon in Winmarleigh Lodge and performed three firsts, two seconds and three thirds. (Alan claims these may have been in accordance with his ritual and not religiously to the book).
Alan gained Provincial honours in 1980 as Past Provincial Deacon. At this time, he was also very active in the League of Friends of Warrington Hospital.
He joined John Brunner Lodge No 2799 in 1995, based in Middlewich and took office as charity representative. Shortly after, Alan moved from Delamere to Frodsham.
In 2000, Alan once again took the chair in this millennium year and at this time Alan's future looked to be good from the point of settling down and met Christine, who seemed to bring a welcome stability to Alan's life by providing a real purpose. Unfortunately, this was not to be, because of a short but fatal illness and very sadly passed away, which devastated Alan. However, he is still in contact with Christine's family.
Following Winmarleigh Lodge's amalgamation in 2006, Alan transferred to the newly named Optima Lodge No 6101 until its demise in 2014 and joined Lodge of Lights No148 and was very happy to do so.
Andy Barton read the certificate from the Provincial Grand Master tony Harrison and presented it to Alan. John Starkey presented Alan with a bottle of malt whiskey from his lodge and a cake which was enjoyed by all. The group agreed that they should pencil in a date for Alan's 75th celebration.