After Joe Lynch took his first regular step in Freemasonry, he became the newest member of Adelphi Lodge No 6819, at the Britannia Adelphi Hotel, Liverpool. Having started the evening as Joe Lynch, by the end of the evening he became known to us all as brother Joe Lynch, Joe was very keen to visit another lodge and witness an initiation ceremony.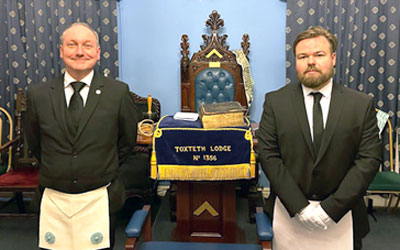 As it was quite late in the Masonic season, everyone was unsure as to whether it would be posable to find another lodge in the Gladstone Group who may be holding an initiation ceremony for Joe to be able to visit. However, thanks to the excellent Mersey Valley Group Events Newsletter, the conundrum was solved and Toxteth Lodge No 1356 was identified as holding an initiation ceremony at Woolton Golf Club.
Having contacted lodge secretary Phillip Birch, who was extremely helpful, all guests were booked in and a visiting party consisting of Mike Fox, David Beckett and of course, Joe Lynch, were looking forward to attending the lodge and dining at the festive board.
On arrival at Woolton Golf Club, secretary, Phil, and treasurer, Eric Binks, were very welcoming and went to the trouble of finding an entered apprentice apron for Joe and a fellow craft apron for guest David Beckett. All visitors being settled, Matthew Wilson, who was deputising for current master, Ian Folksman, welcomed everyone to the lodge and gave his best wishes to all, on behalf of all the brethren of Toxteth Lodge.
It was soon the turn of Shina Abayomi, a candidate who had applied to join the lodge through the digital membership scheme or Pathway Scheme, to take his first regular step and begin his journey into Freemasonry. The ceremony itself was a pleasure to observe and brother Joe commented on some differences in the ceremony which were different to that at Adelphi, which were explained that each lodge is different and so adds to the pleasure of visiting other lodges and seeing their unique customs and ritual.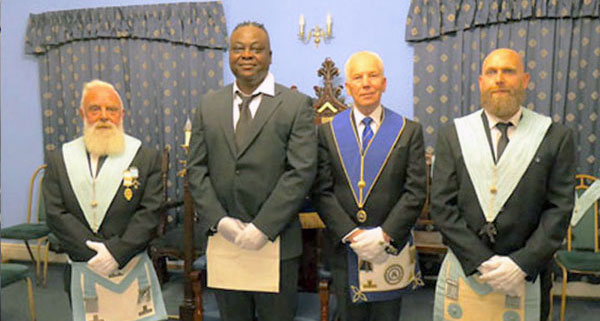 Joe was impressed by the deacons, Steve and Anthony Robinson (father and son) who expertly conducted the candidate around the lodge room, the rendition of the working tools by junior warden Steve Lawler, and finally by the delivery of the charge to an entered apprentice by senior warden John Leisk, who was superb.
In a surprise move, after brother Shina was presented to Jonathan Rayman, of Banks Lodge No 7213, for an explanation of the ceremony and the symbolism attached, visiting guests Joe Lynch and David Beckett were also asked to participate. Both Joe and David were very impressed with Jonathan, his delivery of ritual and the explanation of the ceremony itself, having not had an opportunity to experience that before.
The festive board at Toxteth Lodge was a convivial affair, full of laughter and camaraderie, with the many brethren and visitors making it a very enjoyable evening, and it is safe to say that Adelphi Lodge brethren will be going to Toxteth Lodge again to enjoy both the lodge for its splendid ritual and the companionship of its members.
Following the ceremony, Joe was asked for his impression of both joining Freemasonry and his first visit, this is what Joe had to say: "First impressions, I was nervous. Since I was first initiated only four weeks prior. However, the brethren of Toxteth Lodge made me feel very welcome, I had a great experience, just like at my own lodge. The ceremony had some slight differences compared to ours at Adelphi Lodge. Some wording was slightly different, also part of the initiation was different to ours, so it was nice to see. It was great seeing another initiation. Especially with Shina coming from Pathway Scheme. The candidate had more bottle than I did.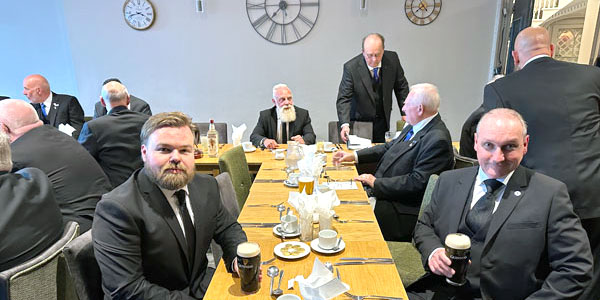 Freemasonry is something I've wanted to join for a while, but I've never had the chance to join. The Freemasons I've known in the past, I've had huge respect for and looked up to. I want to work towards becoming a better person and I believe Freemasonry will help me with that journey. I'm looking forward to working towards becoming a fellow craft and continuing that journey on to a master Mason. I'd like to get myself on the ladder, so that I can explore all the different officers in the lodge to becoming a WM. This will enable me to see more ceremonies as I progress.
There was a nice touch during the ceremony where Jonathan Rayman of Banks Lodge did a very informative talk to a new brother about the initiation. Anyone thinking about joining Freemasonry should take a step out of their comfort zone and go for it."